Bank of Ireland reports pre-tax loss of 569m euros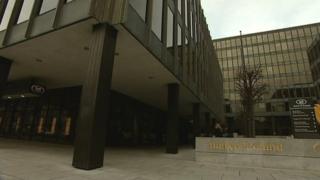 Bank of Ireland made a pre-tax loss of 569m euros (£468m) in 2013, but the result marks an improvement in its performance over the previous year.
The figure is almost two-thirds lower than the 1.4bn euros (£1.2bn) pre-tax loss it recorded in 2012.
The bank said it has made substantial progress over the last 12 months, which had been marked by a slow and steady improvement in the Irish economy.
It added mortgage arrears and troubled small businesses remain key priorities.
Return to profit
Bank of Ireland is the first Irish lender to report a drop in the number of troubled mortgages on its books since the state was plunged into financial crisis more than five years ago.
The proportion of its customers whose mortgages were in arrears for more than 90 days fell to 7.4% from 7.9% in June 2013.
It is also the first Irish bank to return to profitability since the financial crisis took hold, recording a profit for the first two months of this year.
"We've made very substantial progress. We're now in profit and generating capital," its chief executive Richie Boucher said on Monday.
Bank of Ireland was the only major Irish bank to escape full nationalisation during the Irish banking crisis.