Dublin Airport Authority takes legal action over SIPTU industrial action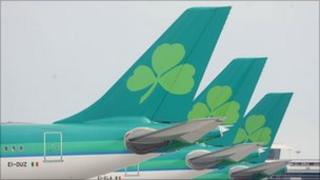 Dublin Airport Authority (DAA) has been granted leave by the High Court in Dublin to seek an injunction against SIPTU to prevent the union from taking industrial action at Dublin and Cork airports.
SIPTU members at DAA and Aer Lingus are due to hold a four-hour strike on Friday.
Aer Lingus staff are opposed to changes being made to their pensions without their consent.
DAA staff also face pension reform.
The matter is due to be mentioned before the High Court on Monday.
Ryanair has also been granted leave to seek an injunction against SIPTU's plan.
SIPTU last month served notice of industrial action at Aer Lingus, the Dublin Airport Authority and the Shannon Airport Authority.
The strike is due to begin at 05:00 GMT to 09:00 GMT on 14 March at Dublin, Cork and Shannon airports.
An expert panel has been appointed to investigate the long-running dispute over threatened benefit cuts in the joint aviation pension scheme.
It is due to issue a preliminary report at the end of March.
The dispute centres on a 750m euros (£618m) deficit in the pension scheme that covers staff at the airline and the DAA.