Ukraine crisis: Space for US-Russia diplomacy narrows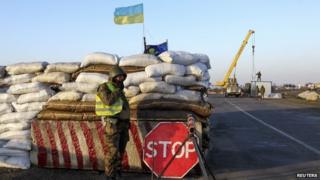 The next few days are going to be critical for any diplomatic solution to the Ukraine crisis, or at least one that comes any time soon.
But it is not looking too hopeful.
US Secretary of State John Kerry has refused to meet President Putin of Russia until he gets certain assurances from Moscow.
The US is warning that if plans go ahead for a referendum on the future of Crimea it closes the space for diplomacy.
So there is a pretty narrow window for anything to happen.
Tension de-escalation
The US and Russia both say President Putin offered to meet Mr Kerry - but the White House decided the meeting should not go ahead until Moscow made its position clear on a number of vital issues.
They amount to a demand Russia acknowledges the Western view of the crisis and adapts its behaviour accordingly. President Putin has a habit of poking fun at visiting politicians he disagrees with, and President Obama, who has suffered some of the treatment himself, clearly did not want to expose the earnest and enthusiastic Mr Kerry to such treatment.
Mr Kerry handed Russian Foreign Minister Sergei Lavrov a paper one-and-a-half pages long which stated that any solution must respect Ukraine's territorial integrity.
It then asked whether Russia would use its influence on the Duma (parliament) and the paramilitaries to de-escalate the situation and work against a referendum.
It also asked whether Russia would engage with a contact group to help Russian troops return to barracks, support Ukraine's election in May and investigate acts of violence.
You can guess the answer to these questions might be "no".
There has been no official response but the Kremlin has quoted the foreign minister as saying the document raises many questions on their side and the US has in effect accepted a coup d'etat against President Yanukovych as a starting point.
US officials say the ball is now in Moscow's court - and if the referendum planned for Sunday goes ahead that would not only severely close the space for diplomacy but would also ensure that sanctions can and will be escalated.
But the Russians say they have proposals of their own. This at least keeps the ball in the air - but the cut-off point seems to be the referendum.