Ukraine crisis: EU offers Kiev $700m in trade breaks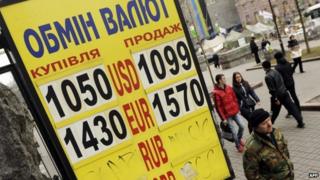 The European Commission has offered Ukraine trade incentives worth nearly 500m euros ($694m; £417m) to stabilise the country's crisis-hit economy.
Commission President Jose Manuel Barroso said import duties would be cut on some Ukrainian goods.
It is part of efforts to sign a key deal ditched by the now ousted President Viktor Yanukovych last year.
The move triggered mass protests. The crisis later escalated when Russia intervened in Ukraine's Crimea region.
Ukrainian troops are being blockaded in their bases by armed men across the southern autonomous region, which is preparing for Sunday's secession referendum.
Russia denies accusations by Kiev and the West that its soldiers are taking part in the blockades, describing the armed men as Crimea's "self-defence" forces.
Intense diplomatic efforts to settle the crisis diplomatically are continuing, with US Secretary of State John Kerry and his Russian counterpart Sergei Lavrov holding another phone conversation on the issue.
In other developments on Tuesday:
At a news conference in Russia, ousted President Yanukovych describes the new Ukrainian authorities as a "gang of fascists" and says presidential elections set for 25 May are "illegal"
Ukrainian PM Arseniy Yatsenyuk tells MPs in Kiev that Crimea's authorities are an "organised gang" backed by Russia, and urges Moscow to settle the crisis diplomatically
The parliament in Kiev asks the US and UK - as guarantors of the security pledges given to Ukraine in 1994 - to use all measures, including military, to stop Russia's "aggression"
Crimea's lawmakers adopt an "independence declaration" - a move almost immediately backed by the Kremlin
Some 4,000 Russian paratroopers begin military exercises in central Russia
A number of flights from Crimea's main airport in Simferopol are cancelled, amid reports that pro-Moscow militia have taken over air traffic control
'Positive impact'
"The European Commission is committed and ready to support Ukraine to stabilise its economic and financial situation," Mr Barroso said on Tuesday.
"This proposal is a concrete, tangible measure of EU support to Ukraine," he added.
The savings are expected to be made through tariff cuts on a range of Ukrainian goods exported to the 28-member EU.
The move still needs to be backed by EU leaders and the European Parliament.
"I would expect a positive impact on businesses and workers to be felt just weeks after this system comes into force," EU Trade Commissioner Karel DeGucht said.
The EU also hopes to sign within days the political chapters of the association agreement with Kiev. The free trade deal is expected later this year.
Brussels earlier offered $15bn of aid to Ukraine over the next couple of years.
Ukraine's finance ministry has predicted it needs $35bn to rescue its debt-laden economy.
'Counter-proposals'
On Monday, US Secretary of State John Kerry rejected an offer of talks with President Vladimir Putin until Russia engaged with US proposals on Ukraine's crisis.
Mr Kerry told his Russian counterpart Sergei Lavrov that Moscow's military intervention in Crimea had made any negotiations extremely difficult.
US officials say there will be little to discuss if Sunday's referendum on whether Crimea should join Russia goes ahead.
Ukraine and the West say the vote is illegal.
Meanwhile, Russia said it was drafting "counter-proposals" to a US plan for a negotiated solution to the crisis.
Moscow has condemned Ukraine's new Western-backed government as an unacceptable "fait accompli" - it says that Russian-leaning parts of the country have been turned into havens of lawlessness.
In a separate development, Nato on Monday announced it would to deploy Awacs reconnaissance planes in Poland and Romania to monitor the Ukrainian crisis.
Nato said the surveillance flights would "enhance the alliance's situational awareness".
Both EU leaders and the US have warned Moscow they would impose sanctions if Russia does not de-escalate the crisis and pull its troops back to their bases in Crimea.
Under an agreement with Kiev, Moscow is allowed to have up to 25,000 troops in the peninsula. But any troop movement outside Russia's Black Sea Fleet bases must be authorised by Ukraine.