European press warns of consequences of Crimea vote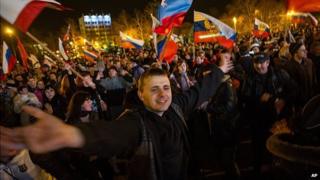 Papers throughout Europe have warned of the long-term repercussions of the Crimean referendum.
Most commentators believe that it is now only a matter of weeks before the Crimean peninsula becomes an integral part of Russia.
Several see the move as marking a significant stage in Moscow's plans to extend its sphere of influence, and warn that Europe and the US must brace themselves to resist further Russian expansionism.
German comment
Jacques Schuster, writing in Berlin-based paper Die Welt, says the West "must set boundaries for Russia and make it clear to the Kremlin that it must expect very serious consequences if it oversteps them, as it did during the Cold War."
He adds that a military response can no longer be entirely ruled out: "It is high time that Europeans stopped dismissing a confrontation with Russia as completely unrealistic."
Daniel Broessler, writing in Sueddeutsche Zeitung, says Europe now faces a war of nerves with Moscow and must show the Russian president that all the talk of sanctions is no empty threat.
Reinhard Veser points out in Frankfurter Allgemeine Zeitung that Russia's references to "requests for protection from residents of eastern Ukraine" is "nothing less than the threat of a military invasion." He argues that "it is important for the EU to react quickly to Russia's aggression with effective sanctions, even if they are unlikely to stop Putin in the short term. The aim now is to make the potential price he has to pay as high as possible."
French, Spanish, Italian comment
French commentators express similar views. Fabrice Rousselot, writing in daily Liberation, says: "It is vital that the community of nations takes prompt action and asserts its refusal to compromise when faced with a leader who is already sending out the message that he could intervene in eastern Ukraine if events demand it."
Pierre Avril, in an article in Le Figaro headlined "Putin continues his grand manoeuvres", says that "Worse still for Brussels and Washington, Moscow is now alluding in cryptic terms to its desire to press its advantage beyond the peninsula."
Several Spanish commentators also warn of the potential "domino" effect of Russia's annexation of Crimea.
Natalia Shapalova, writing in El Mundo, says "If Europe does not react to Russia's annexation of Crimea by Russia, it will encourage further military intervention in mainland Ukraine and similar future 'humanitarian' operations in Moldova, Kazakhstan and other countries (think of the Baltic states) where Russian-speaking populations live."
"This is a problem of global importance - the revision of state borders by military means. Russia has challenged the international order and threatened the very security of Europe," Shapalova adds.
An editorial in La Vanguardia warns that the situation could become even more tense "if the mostly pro-Russian cities in eastern Ukraine make a similar move in the near future".
And Gianni Riotta, writing in Italy's La Stampa, says relations between Russia and the West are not yet quite as bad as they were at the height of the Cold War, but that both sides now need to tread very carefully: "The face-off over Kiev is... a duel without clear rules, with the possibility of serious errors on both sides."
Polish, Czech comment
Polish commentators focus more on the inevitability of the outcome of the referendum, and the fact that Ukraine has little choice but to accept it.
"There were no surprises in the so-called referendum on the future of Crimea... and now the ball is in the Kremlin's court," Miroslaw Czech writes in daily Gazeta Wyborcza.
And daily Dziennik Gazeta Prawna writes that "The West does not recognise the referendum, while Kiev says it will prosecute separatists. But apparently there is not much that the Ukrainians can do about it."
A wide spectrum of opinion is to be found in the Czech press.
Mlada fronta Dnes writes that "The referendum... has triggered the worst crisis in Europe since the Cold War... The time has come to offer military assistance to Ukraine".
Lidove noviny, on the other hand, suggests that taking a tough line with Russia may not achieve much, and advocates an approach more in line with Realpolitik: "If the goal is to... maintain at least a certain degree of communication between East and West, sanctions may do more harm than good."
Ukrainian comment
Acceptance of the secession of Crimea as a fait accompli is the dominant sentiment in the Ukrainian press.
The mood is summed up by an article in the daily Vesti, which says: "Crimea has gone... For Ukraine, the main task now is to prevent the rest of the country from disintegrating."
A similar sentiment is expressed by the commentator Serhiy Leshchenko in Ukrayinska Pravda: "The first act of this spectacle is over. Crimea has, in fact, become... an unrecognised territory and a Russian protectorate. Meanwhile, Donetsk is slowly catching fire."
Russian comment
Meanwhile, the Russian press focuses almost exclusively on the scenes of jubilation in Crimea itself.
A picture in the pro-government daily Izvestiya showing a man in Black Sea Fleet naval uniform dancing and smiling over a caption reading: "Someone may not like this, but we are happy," exemplifies the general tone of the coverage.
A notable dissenter among the Russian press is the liberal newspaper Novaya Gazeta, which carries a full-page photo of the anti-war rally held in Moscow on the eve of the Crimean referendum, accompanied by the headline: "There is a way out".
BBC Monitoring reports and analyses news from TV, radio, web and print media around the world. For more reports from BBC Monitoring, click here. You can follow BBC Monitoring on Twitter and Facebook.