European court chides Turkey over Kurd leader Ocalan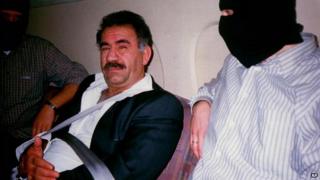 The European Court of Human Rights says Turkey has violated the rights of the Kurdish separatist leader Abdullah Ocalan, who has been imprisoned in an isolated island jail since 1999.
His solitary confinement, until November 2009, was "inhuman", the court said. Later his conditions improved - he has had some limited social contact.
Ocalan's Kurdistan Workers' Party (PKK) has been waging a 30-year armed struggle for Kurdish independence.
A year ago, Ocalan called for a truce.
More than 40,000 people have died during the group's insurgency.
No retrial
Ocalan was convicted of treason and sentenced to life imprisonment without any possibility of conditional release.
The Strasbourg judges said such a sentence was also a violation of the European Convention on Human Rights.
His trial followed his capture by Turkish commandos in Kenya in 1999. He complained to the European Court in 2003, stressing his social isolation and the impossibility of release.
The Strasbourg ruling is not final - and Turkey's Justice Minister Bekir Bozdag said Ankara would appeal against it.
The Ocalan "case is closed and it is out of the question to reopen it," Mr Bozdag said, quoted by the AFP news agency.