Can EU reach consensus on Russia?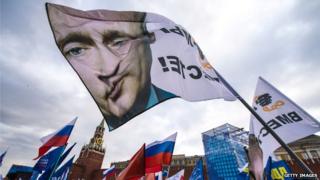 European Union leaders will arrive for their spring summit on Thursday facing a crisis that only recently they could scarcely have imagined.
For more than 20 years they welcomed Russia into the international community.
The Cold War had vanished apart from occasional appearances in spy movies. Europe bought increasing amounts of its energy from Russia. Warnings were cheerfully ignored. European companies - particularly German manufacturers - rushed to export to Russia. The City of London opened its doors to Russian funds.
Now presumptions are being torn up. Europe's leaders will discuss over dinner on Thursday how to stiffen sanctions against Russia after the annexation of Crimea.
Defiance
On Monday the EU had imposed sanctions on 21 fairly low-level people. Their assets were frozen and travel restricted. It was a light flick of the wrist and dismissed by President Vladimir Putin.
The following day the Russian president breathed defiance. Crimea would always be part of Russia he trumpeted. He said he was no longer going to accept the West's ambitions to expand its influence into Russia's backyard.
Essentially his message to Brussels was: if you're thinking of enlarging the EU into former Soviet countries - forget it. East-West rivalry was back.
So over dinner Europe's leaders will discuss their next moves. A few more Russian names may be added to the sanctions hat. That is the easy part. The names are already drawn up.
The question is whether, this time, they will go after people closer to President Putin. That is less certain.
Divisions
What all the leaders know is that if they really want to turn the screw on the Kremlin they have to weaken the vulnerable Russian economy. That means trade and financial restrictions.
That is not going to happen - certainly at this summit. The Germans have made it clear that a move to economic sanctions would only follow "a massive destabilisation" of eastern Ukraine.
And talk of sanctions immediately exposes the divisions in the EU. The Baltic States and Poland - with long experience of the Soviet empire - favour a robust response. Others like Spain and Italy are far more cautious. The Finns too. Countries like Bulgaria and Hungary are dependent on Russian energy.
Trade sanctions require unanimity and that, currently, would be very difficult to achieve.
So the talk at the summit will turn to the long-term.
Europe needs to reduce its energy dependency on Russia. They said it after the invasion of Georgia in 2008 and then promptly forgot all about it. But weakening Russia's economy just might get attention in Moscow.
They will also discuss recasting Europe's relationship with Russia. The US and the UK have warned of expelling Russia from the G8.
Bulgarian President Rosen Plevneliev believes Russia is already hurting.
"Who will trust Russia anymore?" he asks. "And if you don't trust, you're not going to invest. The markets are not going to trust anymore."
Perhaps, although investors have a way of moving on very quickly.
Economic pain
But sooner or later unless President Putin changes course - and that seems unlikely - the West will either have to accept the facts on the ground that Crimea has gone or they will have to turn towards trade sanctions.
And that could prove costly for countries like Germany. Last year Germany and Russia traded goods with a value of more than 70bn euros (£59bn). And Russia could retaliate by expropriating foreign companies.
Once again the focus will shift to Berlin. In the event of the crisis deepening, will the country with a special economic relationship with Moscow be prepared to accept some economic pain to perhaps give President Putin pause for thought?
Very few EU leaders want to begin trade sanctions, and President Putin knows it, but they might just at this summit begin discussing how the cost of trade sanctions would be shared.
So for Europe the challenge remains; how to carry conviction with a leader who has revealed he feels slighted by the West and who so deeply regrets the break-up of the Soviet empire.