Nations pledge to increase nuclear security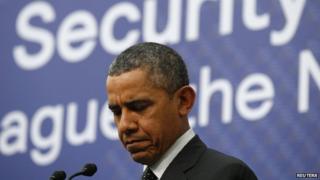 Thirty-five out of 53 nations taking part in a summit on nuclear security have pledged to turn international guidelines into national laws.
The US, UK and Japan were among the countries to agree to the deal at the summit in the Dutch city of The Hague.
Major nuclear powers Russia, China, India and Pakistan did not join the initiative.
One of the main objectives of the deal is to prevent terrorists from obtaining nuclear material.
US President Barack Obama hosted the first Nuclear Security Summit (NSS) in Washington DC in 2010, a year after he declared nuclear terrorism "one of the greatest threats to international security".
'Ambitious goals'
Countries that committed to implementing international guidelines also agreed to allow independent experts to "evaluate their security procedures for nuclear material", the NSS said in a statement on Tuesday.
They furthermore pledged to keep the quantities of nuclear material "as low as possible".
Russian President Vladimir Putin did not attend the two-day summit and instead sent his foreign minister, Sergei Lavrov.
In his closing remarks, President Obama said 12 countries and two dozen nuclear facilities around the world had now "rid themselves entirely of highly enriched uranium and plutonium.
"We've seen a fundamental shift in our approach to nuclear security, but we still have a lot more work to do to fulfil the ambitious goals we set four years ago to fully secure all nuclear and radiological material, civilian and military, so it can no longer pose a risk," he said.
The US president used the final news conference to praise Ukraine's decision at the 2010 to remove all its dangerous materials from its nuclear fuel sites.
"Had that not happened, those dangerous nuclear materials would still be there now and the difficult situation we're dealing with in Ukraine today would involve yet another level of concern," Mr Obama said.