Pat Rabbitte says ministers did not know of police recordings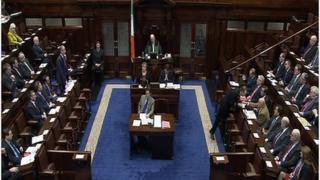 Ireland's communications minister has said most Cabinet ministers did not learn about recorded phone calls in police stations until Tuesday morning.
It follows reports that the secretary general of the justice department told former police commissioner Martin Callinan on Monday night there was disquiet in the Cabinet on the issue.
Information about the recordings was given to Irish Prime Minister Enda Kenny at the weekend.
It was given by the attorney general.
Mr Callinan resigned on Tuesday due to a controversy over police whistleblowers.
Communications Minister Pat Rabbitte said the first he and the remaining Cabinet ministers knew about the recordings was at the Cabinet meeting on Tuesday morning.
He said Justice Minister Alan Shatter was the only other cabinet minister to be consulted about it before this.
Mr Rabbitte said Deputy Prime Minister Eamon Gilmore first heard about it at a pre-Cabinet meeting on Tuesday morning.
He said he would have expected that management in the force at a much lower level than the Garda (police) commissioner, including chief superintendents in the regions, must have known about the practice.
He said a Commission of Inquiry into the issue would establish if successive Garda commissioners had known about the practice of recording phone calls.
The former commissioner, Mr Callinan, said the systems were set up in the 1980s to enable police to record calls to and from control rooms in particular 999 calls, bomb threats and other messages.
The practice continued in some stations over the years with recordings retained in the Garda Stations.
Mr Callinan said all recordings except 999 calls ceased nationally on 23 November 2013.