Theresa Villiers visits Dublin for WW1 memorial event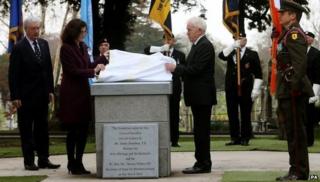 Northern Ireland Secretary Theresa Villiers has described as a "great honour" her attendance at a World War One memorial ceremony in Dublin.
She laid a foundation stone for a memorial cross at Glasnevin Cemetery with Irish Arts Minister Jimmy Deenihan to mark the centenary of World War One.
"It recognises that thousands of men from the island of Ireland, north and south, died in the service of the British army in World War One," she said.
"That sacrifice needs to be recognised.
"Here at Glasnevin from now on, we have a place where people can contemplate the heroism of those who gave their lives for our freedom."