Dublin houses damaged after car 'explosion'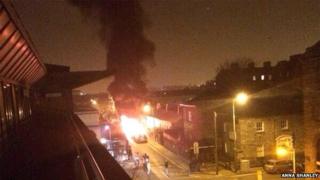 A number of houses have been damaged after a suspected explosion in a car near Dublin city centre.
The vehicle caught fire in the incident which happened in Long Lane at about 23:00 BST on Sunday.
Army bomb disposal officers were called and the scene on Sunday night.
Police are trying to trace an injured man who was seen hobbling away from the scene.
It is thought the man, who was bleeding, was picked up by a taxi driver. They have appealed for witnesses.