Ukraine crisis: Why have protests erupted in the east?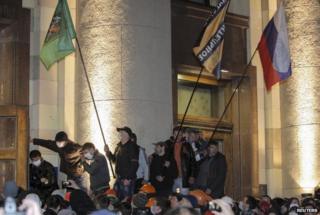 These are not the first protests of this kind in eastern Ukraine. Nor are they that big: No more than 1,000 or 2,000 people on the streets in each city.
But they have resurfaced with renewed determination and seem well co-ordinated.
So why now? And for what purpose?
Given how swiftly last month's pro-Moscow protests in Crimea turned into a Russian takeover, it is hardly surprising the Kiev government worries in case the same scenario could be repeated - especially with some protesters calling for a Crimean-style referendum to determine eastern Ukraine's future relations with Kiev.
Moscow will argue that the rallies just show the strength of feeling at the grassroots, and back up its call for constitutional reform to give Russian-speaking regions in Ukraine more say over their own future.
For weeks, Moscow has made this a key diplomatic demand which it wants agreed quickly - before 25 May, when voters are due to choose a new Ukrainian president.
But in Kiev, the interim government suspects that this is not really grassroots activism at all, but a deliberate campaign orchestrated from across the border in Russia.
The aim is to keep Kiev under pressure so that either it will succumb to demands to loosen ties with eastern regions, possibly even allow them to break away to join Russia; or it will face mounting unrest in eastern regions and the prospect of President Vladimir Putin acting on his threat to intervene militarily to save Russian compatriots from danger.
Although Moscow has repeatedly reassured the West that it has no intention of sending troops across the border, Mr Putin has reserved the right to intervene as a last resort.
So it is no wonder Ukraine's acting President Olexander Turchynov has cancelled his trip abroad and called an emergency meeting of his security chiefs in Kiev.
For him, it is vitally important to try to stop these rallies from getting bigger and the clashes from getting more violent, so Mr Putin cannot claim Kiev has lost control of eastern Ukraine, and therefore Russia has no option but to intervene for "humanitarian" reasons.