Ukraine PM attempts to assert control in restive east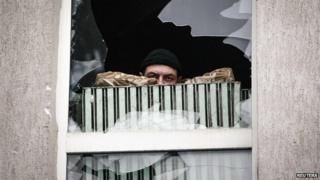 Ukraine's interim Prime Minister, Arseniy Yatsenyuk, came to his country's eastern regions on Friday, on a mission: to resolve the latest crisis to have sent convulsions through Ukraine's new government.
Mr Yatsenyuk and his ministers must assert their control throughout the country, and prove they are up to the job of tackling Ukraine's mind-boggling number of problems.
The country in recent weeks has undergone a revolution, faces an economic meltdown and has just lost a major piece of its territory to Russia.
This is in addition to an overall deterioration of relations between Kiev and Moscow, which has resulted in a reported Russian troop build-up on Ukraine's borders, and a threat from the Kremlin to cut off gas deliveries.
Now armed groups, who have occupied government buildings in two cities in the east, are challenging Kiev's authority, and many people among the general population there say they distrust the country's newly installed leaders.
Barrage of complaints
Mr Yatsenyuk arrived in Donetsk - the centre of Ukraine's coal and steel industry - equipped with a slate of promises and proposals, which he hoped might win over sceptical easterners to his government's side.
He assured political and business leaders that "no one, nowhere, no how will ever restrict the use of the Russian language" - a statement which intended to put to rest fears among some eastern Russian speakers that Ukrainian nationalists in the new government wanted to outlaw the language's use.
Mr Yatsenyuk also said he would strive to transfer more powers from the central government to the regions, which would be laid out in a new draft constitution.
This, apparently, was an attempt to head off calls in the east for "federalisation," which Kiev views as a Russian ploy to dismember the country. The draft constitution would be completed in time for Ukraine's presidential elections on 25 May, the prime minister said.
In return, Mr Yatsenyuk was submitted to a barrage of complaints, questions and demands from the political and business leaders whom he met.
Pressing problem
The mayor of the eastern city Kharkiv, Gennady Kernes - who was a one-time supporter of Ukraine's ousted President, Viktor Yanukovych - went through a laundry list of grievances, starting with the lack of money in his budget, and ending with Kiev's decision, in an effort to counter Kremlin propaganda, to block Russian TV stations.
"People watch the stations also for cultural programmes and movies," he said. "They paid their cable companies for these channels."
But Mr Kernes added, echoing a unanimous sentiment among the officials in the Donetsk conference hall: "There are no separatists among us."
But the most pressing problem, and the one for which Mr Yatsenyuk had no ready remedy, was what to do about the pro-Russian protesters occupying government buildings in Donetsk and Luhansk.
"We will do everything to prevent a crackdown," he said, and repeated an offer to the activists to leave the buildings peacefully in return for protection from arrest.
But he did not say what the government would do if the standoff continues indefinitely.
At the regional administration building, the protesters, who have declared an independent "People's Republic of Donetsk," have barricaded themselves behind intricate walls of tyres, stones and endless yards of razor wire.
Their numbers are small, but they seem committed to continuing their movement.
"Federalisation, independence, union with Russia - whatever. What we want is for people from Donetsk to determine their own future," said Alex, an activist who asked not to use his last name.