Easter Rising ceremony held in O'Connell Street, Dublin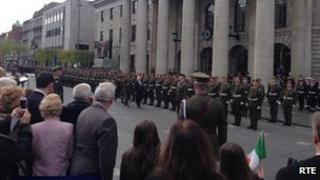 Up to 5,000 people have attended a ceremony in Dublin to commemorate the 1916 Easter Rising.
The event, at the GPO on O'Connell Street, was led by President Michael D Higgins, Taoiseach Enda Kenny and the Minister for Justice Alan Shatter.
Prayers of remembrance were held during the service along with a reading of the Proclamation and the laying of a wreath by President Higgins.
Around 170 members of the Irish defence forces took part in the ceremony.
The national anthem was played and the flag was lowered to half-mast. A minute's silence was also observed.
The Easter Rising rebellion began on 24 April 1916, but ended after six days of fighting, and most of its leaders were executed.
It cost the lives of 450 people - more than half of whom were civilians - and resulted in widespread destruction of much of the Irish capital's inner city.
The Easter Rising was defeated by the British forces within days, but the execution of 15 rebel leaders who survived the fighting roused public sympathy for their cause.
The event is widely viewed as the catalyst for the Irish War of Independence two years later, which was followed by the partition of Ireland and the establishment of an Irish free state.
The Irish government is planning a major commemoration of the Easter Rising to mark the centenary in 2016.