Irish education minister proposes radical changes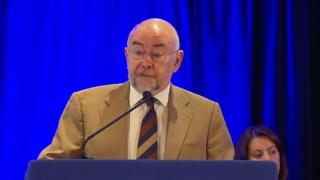 The Irish education minister has proposed a radical shake-up of the further education sector.
Ruairi Quinn told a teachers' union that there was a need for the sector to provide all year round courses, in order to help tackle unemployment.
Currently, many FE courses run from September to April or May, but he wants them to change to a 12-month cycle.
Mr Quinn was speaking a day after he was heckled and booed as he made a speech to another teachers' union.
'Highly feminised'
The minister was given a hostile reception on Tuesday, as he addressed delegates at the Association of Secondary Teachers Ireland (ASTI) conference in County Wexford.
He was constantly heckled and at one stage his speech was drowned out by hostile applause.
Earlier on Tuesday, he had made controversial remarks during a speech to the Irish National Teachers Organisation (INTO) in County Kilkenny.
Many INTO delegates were angered when Mr Quinn talked about teaching being a "highly feminised" profession.
He also said there was a tendency for teenage girls to opt for ordinary level maths rather than higher level or honours maths during their Leaving Certificate examinations.
'Fury'
There were groans from the INTO audience when Mr Quinn said he wanted higher level maths to form part of the minimum requirement for entry into the teaching profession.
Addressing the same audience, the INTO's general secretary, Sheila Nunan, said: "Sisters, hell hath no fury."
She got a standing ovation when she added: "The boys that did the Honours Maths led this country to ruination."
On Wednesday, ASTI's general secretary Pat King criticised members of his own union who had heckled and booed Mr Quinn.
'Bullied'
Mr King said he had witnessed a man being "abused, shouted down and treated disgracefully by a minority" of those who attended ASTI's conference.
He added that could not sit by and allow any human being to be bullied in his presence.
Mr Quinn was not heckled as he addressed the Teachers Union of Ireland (TUI) conference in County Kilkenny, after a TUI leader called for a "respectful welcome" for the minister.
His proposal that further education courses continue through summer months would mean major changes in the terms and conditions for those teaching the courses.
However, Mr Quinn said changes were necessary to help tackle the Republic of Ireland's 11.8% jobless rate.
"People cannot dictate when they will become unemployed," the minister said.
"Equally, we cannot dictate that education opportunities will only appear at certain times of the year. We need to be much more flexible than that."
'Political rebranding'
The minister is also bringing forward legislation that would allow institutes of technology to move towards "merger and designation as technological universities".
However, he said he would not "go down the Margaret Thatcher route of renaming every polytechnic as a university".
"This will be no political rebranding of existing institutions. To allow that would devalue our entire third level sector," he added.
Mr Quinn also discussed his plans for changes to the Republic of Ireland's Junior Certificate examination, which will be renamed as the Junior Cycle Student Award (JCSA).
Students in the Republic of Ireland usually begin the junior cycle at age 12 and take the Junior Certificate exam after three years.
'High-stakes'
The minister said reform was needed as many students were dropping out of the Irish education system at an early stage in their schooling.
Mr Quinn said the Republic of Ireland was "almost unique in retaining a high-stakes terminal exam at the end of junior cycle".
He added that the current curriculum was developing the "wrong skills, for the wrong time, in this globalised world we now inhabit".
"The Netherlands, New Zealand, Singapore and many others - countries who are achieving many of the standards we aspire to - these countries are already transitioning away from any state certification at the end of junior cycle," he said.