Searches for Eoin O'Connor and Anthony Keegan on Cavan/Meath border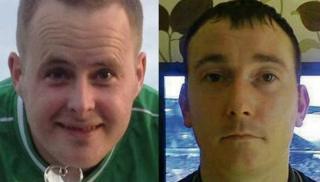 Gardaí (Irish police) searching for two missing Dublin men have begun searching an area around the Cavan/Meath border.
Eoin O'Connor, 32, and Anthony Keegan, 33, both from Coolock, were last seen in Cavan a week ago after telling their families they were going to a meeting.
It is understood Gardaí suspect their disappearance is connected to the activities of a Dublin criminal gang.
Their car was discovered near a lake in County Westmeath, which was searched by police divers on Friday.
Police have said examinations of the car did not suggest signs of a struggle and there were no traces of blood.
Detectives have previously said they were seriously concerned for the men's safety.
Police search teams began searching land and a building near Mountnugent on Tuesday morning.
The search is expected to continue for the day.