Down's syndrome boy loses free health care in County Meath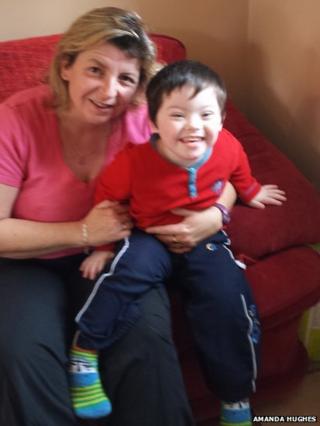 A mother of a four-year-old boy with Down's syndrome has claimed Irish authorities asked her to "prove" her son still had the lifelong condition.
Amanda Hughes, from County Meath, said a medical card entitling her son to free health care has been withdrawn.
The Health Service Executive (HSE) said it regularly reviewed eligibility.
It said it did not require proof of lifelong conditions but did require updated medical reports in order to renew medical card entitlements.
In the Republic of Ireland, medical card holders can access a range of health care that they would otherwise have to pay for, including visits to their family doctor, prescription medicines, medical equipment and some hospital services.
The state benefit is means-tested, but a number of the cards are given out on a discretionary basis to people with certain medical conditions.
The discretionary cards are distributed in cases where paying for medical costs would cause the patient "undue financial hardship".
Mrs Hughes said her son, Ben, often suffers from poor health due to a weakened immune system and has held a discretionary medical card from birth.
'Respiratory problems'
Her dispute with HSE began late last year, when the Irish public health body carried out a review of her son's entitlement.
She said she she was repeatedly asked for evidence of his condition before his card was withdrawn.
"They wanted proof basically that my son still had Down's syndrome," Mrs Hughes said.
"So, I rang the HSE that day and I got talking to a girl and I said to her 'what proof do you want'? I said to her would she like a photo, and I was told not to get smart.
"I don't know what proof they wanted because all his medical records had already gone in. Ben has respiratory problems, Ben is prone to every infection going. I've had at least 13 visits to the doctor in 12 months," she added.
Mrs Hughes said a GP visit could cost between 45 to 60 euros (£37 -£49) and then she would have to pay extra for her son's prescriptions.
"You're really talking about 100 euros (£82) per visit," she said.
The mother-of-two from Trim said she received a review form regarding her son's medical card last November, which she completed and returned by registered post.
She said by February she had not received a reply and when she inquired, she was told her registered post had not been received and she had missed the deadline for card renewal.
However, she said the HSE told her if she resent her form they would consider it even though the deadline had passed.
Mrs Hughes gathered all the paperwork again and sent off the form for a second time, but got a letter two weeks ago to say her son had lost his medical card as he did not meet the criteria.
'Incurring costs'
She said she was also told she could not re-appeal the decision, but would have to start the process from scratch to reapply for a new card.
"I'd just reached the end of the road and I don't know what to do anymore. I don't know where to go and it just seems to be a circle."
"It's just so wrong and we're so stressed as it is, because every day we fight for the kids," Mrs Hughes added.
"We have so much going on, with appointments and everything else, and they've just made it so much harder for parents."
In a statement to the BBC, the HSE said: "Medical card applications are considered on the basis of an assessment of an applicant's means, by reference to the national income guidelines.
It added: "The HSE does not comment publicly on individual cases, however, the procedure at renewal stage calls for an updated medical report if consideration of discretion has been sought.
"This does not mean that proof is required for what are lifelong conditions but it does include an update on medical treatment that may be underway and that may be incurring costs for the family."
Mrs Hughes raised her son's case with the support group, Down Syndrome Ireland.
Its chief executive, Pat Clarke, said the Hughes family are among many families who have lost their medical cards due to a more rigid enforcement of existing rules.
Mr Clarke said everyone with Down's syndrome would need access to a medical card, and added that people with all kinds of long-term medical conditions were being adversely affected by attempts to cut costs.