Gypsy beat in France's conservative south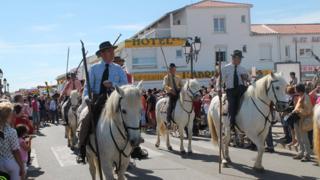 The right may have gained in the European elections in France but conservatives and Gypsies can happily co-exist in the conservative deep south, Tessa Dunlop finds.
When Roland Chassain ambles nonchalantly up the stairs half an hour late I am surprised by the diminutive crumpled figure who greets me.
After all, if you believe what you read on the internet, this man, the Mayor of Saintes-Maries-De-La-Mer, is the nemesis of his town's most famous festival - the gypsy pilgrimage in honour of Sara la Kali or Black Sara, the enigmatic saint of Europe's travelling community.
Gitanes, Tigani, Roma, Gypsies - call them what you will, this is one day a year when, in the remote marshlands of the Camargue, they shed their minority status and become the majority.
The sleepy seaside town, a stronghold of the National Front but ruled by the centre-right UMP, is transformed, the locals are outnumbered.
"I am not anti-Gypsy," protests Mayor Roland, "but their young are not disciplined, it has changed. It was different 40 years ago."
Certainly things have changed. Forty years ago Mr Roland, a friend of former French President Nicolas Sarkozy, did not have his own fiefdom in the Camargue.
"Oh yes Sarkozy loves to ride." Mr Roland's blue eyes light up, I have spotted a picture of his political chum on the wall.
Fresh-faced and lithe, the ex-president cuts quite a dash atop one of the Camargue's famous white horses. I count another five pictures of Mr Sarkozy sprinkled around the office. In a couple, Mr Roland shares the limelight with his hero.
So how does this political friendship tally with Mr Roland's remit as mayor of a town where the Gypsies pray (and party) hard?
Mr Sarkozy may not be as hardline as Marine Le Pen, but his attitude towards the gypsies certainly attracted criticism.
The EU spoke out against his targeted expulsion of Romanian Roma. But the mayor is indignant. He leans forward, there is a lot of eye contact.
He tells me: "That was about immigration, Sarkozy isn't anti-Roma, he likes Gypsy music!"
Phew, so we have cleared that up, and what about St Sara's festival?
"I will be there," Mr Roland assures me. "I never miss one of my town's pilgrimages."
Outside a storm is brewing, there is a tension in the air. It might be about to rain and in the cafes, waiters are not taking any risks, visiting Gypsy families are being asked to finish their drinks, tables and chairs are dragged inside.
Bars are closing early and there is more to it than the weather. One bar owner refuses to be drawn: "If I say something it will be vulgar."
But the message is clear - not all the locals welcome their annual visitors, they argue the Gitanes come to settle scores, they drink too much, they make a noise.
It feels like a pretty mean riposte to a group of people whose legendary celebration of St Sara has helped put Saintes-Maries-De-La-Mer on the contemporary map.
Her statue's procession from the crypt down to the sea has gained the full backing of the Catholic Church and tourists on a quest to find their inner Gypsy line the route in their thousands. They are not disappointed.
With an extraordinary resilience that has defined their disparate community for years, thousands of predominantly French gypsies come here to worship their dark-skinned saint. The spectacle, both spiritual and visual, is overwhelming, many are in tears.
And then I spy Mayor Roland walking down the aisle of the church, as good as his word.
He sees me in the crowd and eagerly leans across to plant a kiss on both my cheeks - well I am a Gagi, (the Roma expression for a non-Gypsy), and all good politicians need allies.
The moment passes.
Sara moves onwards and out, towards the rim of the sea, wobbling slightly on an elevated base, she is given her annual dunk in the Mediterranean flanked by white horses and singing gypsies, then it's homewards back to her underground crypt.
And let the party start!
It is impromptu, bands that have crossed countries do not need formal venues. They sit down and play - guitars, violins, double bass, even drums.
I meet Georges Guta, who plays the accordion: "I'm a musician in Paris but for St Sara my father has joined me from Romania with his violin and my brothers.
"We are good Gypsies but we're lucky, we can perform music, it's harder for the others."
He looks up and smiles, then the Guta family begins to play, the effect is mesmerising.
The crowds are silenced, encore! I buy one of their CDs - no one can live off the goodwill of St Sara alone.
And I think… what a shame Mr Sarkozy is not here, I am told he likes Gypsy music.
How to listen to From Our Own Correspondent:
BBC Radio 4: Saturdays at 11:30 and some Thursdays at 11:00
Listen online or download the podcast.
BBC World Service: Short editions Monday-Friday - see World Service programme schedule.