Marian Harkin wins final European election seat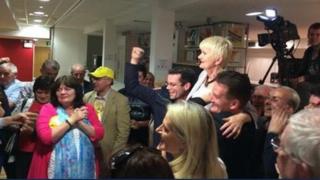 Independent candidate Marian Harkin has won the final European election seat in the Republic of Ireland following a re-check of votes.
The re-check was ordered in the Midlands-North West constituency after only 275 votes separated Ms Harkin and Fianna Fáil's Pat 'The Cope' Gallagher.
All of the country's 11 European parliament seats have been decided.
Fine Gael have won four seats, Sinn Féin three, others three and Fianna Fáil one.
On Tuesday evening, Sinn Féin's Matt Carthy joined independent Luke 'Ming' Flanagan and Fine Gael's Mairead McGuinness as MEPs in Midlands-North West.
Fianna Fáil's Brian Crowley, Fine Gael's Seán Kelly and Deirdre Clune, and Sinn Féin's Liadh Ní Riada were elected in the South constituency.
Sinn Féin's Lynn Boylan topped the poll in Dublin and, following a recount, she was joined by independent Nessa Childers and Brian Hayes of Fine Gael.
In local elections, only six seats are left to be decided.
Election date set
These are in the Ballybay-Clones electoral area for Monaghan County Council, following the death of a Fine Gael councillor.
Owen Bannigan, 51, who had been a member of Monaghan County Council since 1999, died of a suspected heart attack on Friday afternoon.
The Department of the Environment said that ballots cast in the local election in the Ballybay-Clones electoral area would be destroyed and the election will now take place on Saturday, 7 June.
In local council elections, Fianna Fáil received 25.3% of the first preference vote and have made significant gains, securing 266 seats so far.
Independents and others are the next largest grouping, with 237 council seats and a first preference vote of 28.3%.
Fine Gael have currently won 232 seats while Sinn Féin has grown to 157 seats. Labour have won 51 seats.
Irish deputy prime minister (Tánaiste) Eamon Gilmore announced he is standing down as Labour Party leader, after the party's disastrous election results.