Turkish police tear gas protesters in Ankara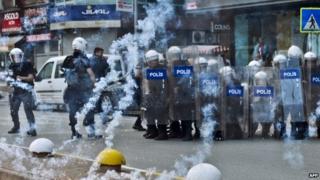 Fresh clashes have hit the Turkish capital, Ankara, a day after unrest broke out on the first anniversary of mass anti-government rallies.
Security forces fired tear gas at protesters gathered near the site where a demonstrator was killed last June.
On Saturday, officers also used tear gas and water cannons to disperse angry crowds in Ankara and Istanbul.
A local protest in Istanbul turned into nationwide rallies in 2013 after a deadly police crackdown.
Prime Minister Recep Tayyip Erdogan's decade-long rule came under pressure after a number of people were killed in the unrest, with thousands more injured.
'Keep on fighting'
Officers in central Ankara used tear gas and water cannons to stop a rally commemorating the death of 26-year-old Ethem Sarisuluk, who was shot in the head by security forces on 1 June 2013.
"Ethem's murderer is the AKP police," protesters shouted, referring to the ruling Justice and Development Party.
"This is only the beginning. We will keep on fighting."
The family of Mr Sarisuluk laid flowers at the site of his killing.
On Saturday, some 25,000 members of the security forces surrounded and blocked Istanbul's Taksim Square, the epicentre of the 2013 demonstrations.
Clashes broke out after protesters marched on the despite a government ban on gatherings in force there.
PM Erdogan had urged young Turks to not join this weekend's rallies, saying they were being organised by "terrorist organisations" that "manipulated our morally and financially weak youth to attack our unity and put our economy under threat".
Protesters have clashed with police in recent months, with two men killed during angry demonstrations over a mining disaster that killed 301 people.
Anger also flared in March with the news of the death of a 15-year-old boy who had been in a year-long coma after being hit by a tear-gas canister during a protest.
The trouble started in May last year after police cracked down on people demonstrating against plans to redevelop Istanbul's Gezi Park.
Protesters took the government by surprise by occupying Gezi Park and nearby Taksim Square.
Riot police evicted them two weeks later using heavy-handed tactics and galvanising anti-government demonstrators in several other cities.
Since then, Mr Erdogan has faced accusations of authoritarianism and corruption after a string of scandals.
He has also moved to block social media sites YouTube and Twitter, after accusing his opponents of using them to deliberately undermine him.
In the first vote since last year's mass protests, Mr Erdogan's party won local elections in March, which were widely seen as a barometer reading of his popularity.