Ex-Barca boss Sandro Rosell called to give tax evidence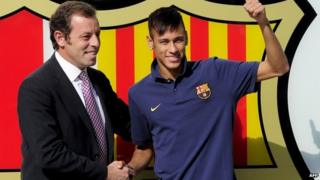 The ex-president of the Barcelona football club Sandro Rosell has been called to give evidence over charges of tax evasion.
The charges relate to the transfer of Brazilian striker Neymar.
The summons says that up to 11.8m euros (£9.6m; $16m) of taxes due over the deal may not have been paid.
In February the club made a voluntary payment of 13.5m euros to authorities, but both it and Mr Rosell deny any wrongdoing.
He resigned his post in January after the legal case was initially brought against him.
The club was formally accused of tax fraud in February, when a judge in Spain ruled there was enough evidence to continue investigations into the transfer.
On Wednesday Judge Pablo Ruz called for representatives of the club to appear along with Mr Rosell in court on 13 June.
In March the club's new president, Josep Maria Bartomeu, called the affair "embarrassing" but said that the club had done nothing wrong.
At the time of the move, Barcelona said the transfer was worth 57.1m euros, but after questions were raised by a member of the club, they were forced to release documents showing the full cost to be more than 86m euros.