Man dies after hijacked taxi crashes in Dublin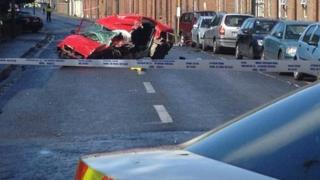 A man in his 20s has died after a hijacked taxi crashed in the south inner city of Dublin.
The taxi driver was assaulted before being forced out of his car by two men in the Oliver Bond Street area at about 08:30 BST on Sunday.
The taxi later crashed into a pole in James's Street and narrowly avoided an oncoming vehicle.
One of the men, a passenger in the car, was taken to hospital where he was later pronounced dead.
The other man, who is also in his 20s, was not injured in the incident. He was arrested and is being held at Kilmainham Garda Station.
The taxi driver's injuries are not believed to be life threatening.
Police said the vehicle was not being pursued at the time of the crash.