Aer Lingus: Airline issues annual profit warning over threatened strikes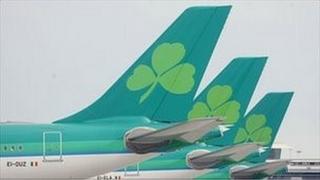 Aer Lingus has warned that its annual profits could be up to 20% lower than expected because of threatened strike action.
In a trading update, the airline said it anticipated a fall in bookings as a potential adverse effect of strikes called by cabin crew from the Impact trade union.
Strikes planned for next Monday and Wednesday have been deferred.
It followed talks between airline management and the union.
They were held at the Labour Court in Dublin on Wednesday.
Management and cabin crew are locked in a dispute over working hours, with trade union Impact complaining that its members are being left exhausted by the current roster arrangements.
Aer Lingus has said its cabin crew enjoy some of the "most favourable working conditions in Ireland".
Aer Lingus said the threat of strike action had caused significant damage to Aer Lingus' trading and forward bookings for several months into the future.
It said the fall in bookings had been particularly noticeable in recent days following increased media coverage and commentary.
"In this context, and assuming that no further strikes are threatened, Aer Lingus now expects that its 2014 operating profits (before net exceptional items) will be 10% to 20% lower than last year. The outcome will depend in part on the speed with which we can win back customer confidence," the statement said.
Aer Lingus also said it would continue to engage with Impact through the Labour Court to resolve the dispute with staff.
Last month, about 200 flights were affected by a day of industrial action, which was estimated to have cost the company about 10m euro (£8.1m).
Cabin crew took part in the one-day stoppage because of a dispute with the airline over work rosters and picketed Dublin, Cork and Shannon airports.
The strike did not affect Aer Lingus flights in Northern Ireland.