Louth man helps Croatia prepare for World Cup in Brazil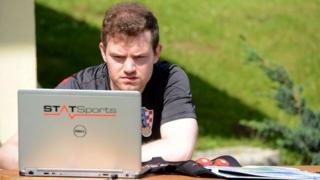 A Louth Gaelic footballer has been helping Croatia get ready for their World Cup battle with Brazil.
Barry Hamilton has been with the squad since their pre-tournament training camp in Austria.
He works for Dundalk company STATSports whose Viper tracking system is being used by the Croats.
The system - which uses hardware worn by the players as well as software to analyse the data - tracks what distances players have covered, their maximum speed and how much of the distance they have covered is done at what speed.
It also monitors training loads, very important during a World Cup with a short recovery time between matches.
"Barry flew out to do a 10-day demonstration with them in Austria pre-World Cup and they absolutely loved the system and I suppose that's how he ended up going to Brazil," STATSports' Jim Mc Eneaney said.
"The Croatian team and the captain particularly were very happy with the system and were keen on bringing it to the World Cup.
"I think it was [team captain] Darijo Srna stood up in a meeting and said 'give me your passport, you're coming to Brazil'.
"Up until that point he was pretty sure that he wouldn't be going."
He said Barry would have a key role with the squad during the tournament.
"If you only want a player to cover 3kms in a training session or 2kms or whatever, you have the objective data there to show that he has covered 2,000 metres," he said.
"If he goes over it, you can watch the system live, so that's what our sports scientist Barry Hamilton is doing.
"He's watching the training and reporting to the coaches to say 'Luca Modric or Mandzukic has crossed 2,000 metres, do you want to pull him out?'.
"He also downloads all the data afterwards to give the coaches reports."
Among the company's other clients are the England and American national teams, 17 Premier League clubs and European giants Barcelona and Juventus.
'There to do a job'
Barry, a former member of the Louth's U21 team and who plays for the Geraldines club, told the Dundalk Democrat it had been a case of being in the right place at the right time.
"You have to try and be as professional as you can and you can't lose sight of the fact that you're there to do a job," he said.
"You just shake their hands and treat them like you would any other person, but you do get moments afterwards where you're thinking, 'that was a Champions League winner I was working with today'.
"I've obviously got to know them a little bit better and they are really nice guys. The mood in the camp is great and hopefully they can go on and do their country proud.
"It will be an an experience I'm sure I'll never forget and hopefully some of the people back home will be cheering Croatia on.
"Nobody expects anything other than a Brazil win but the lads are confident they can cause an upset."