France school exams hit by rail strike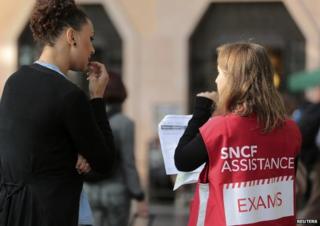 Rail workers have gone on strike in France for a sixth day, affecting students taking final school exams.
Some 687,000 high school students were taking their Baccalaureate on Monday and train operator SNCF said it had deployed 10,000 staff to help them.
Special trains and buses were provided near exam centres, the company said.
Two unions are on strike over a government plan to unite SNCF with the RFF railway network. Workers fear the reform will mean job losses.
Two Baccalaureates, or "Bacs", were being sat on Monday - in philosophy and French. As well as thousands of staff clad in red bibs providing help at stations, some 150,000 stickers were being handed out to help identify students and give them priority over other passengers.
Prime Minister Manuel Valls said on French radio the strike "serves no purpose and is irresponsible, especially on the day of the Bac".
Two unions are taking part in the industrial action. CGT and Sud-Rail. However, SNCF said the turnout by strikers on Monday had fallen to 14%, around half the proportion in the middle of last week.
Rail services continue to be badly affected, with limited trains on the main route in the Paris region serving the two airports at Charles de Gaulle and Orly. Many intercity trains have been cancelled.
Mr Valls said that while strike action was a constitutional right, he believed in dialogue and called for an end to the walkout, France's longest stoppage for years.
The National Assembly is to debate the rail reforms on Tuesday although the strikers have called for a delay.
The unions say the government's plan to preserve the two companies as separate within a single holding structure does not go far enough. They are calling for a full merger and for the government to take on the two firms' combined debt of 40bn euros (£32bn; $54bn).