Police find 50 stolen art pieces in Dublin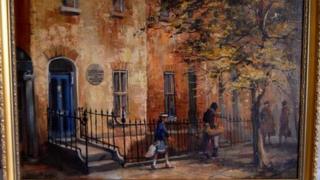 Irish police have recovered almost 50 paintings that are believed to have been stolen in the 1980s and 90s.
They were discovered during a police search of premises in west Dublin in mid-April.
Since the discovery police have been able to reunite six of the 48 paintings with their previous owners.
The six paintings had been taken from a range of locations, including Belfast and Yorkshire.
The overall value of the paintings is in excess of 100,000 euros (£80,000), with the six identified ones valued at approx 35,000 euros (£28,000).
The paintings include works by Robert Ballagh, William Ashford, Brian Ballord, and Graham Knuttell.
The collection also includes silver items and valuable books.
No-one has been charged in relation to the thefts.