Irish study says alcohol is 'embedded' in national identity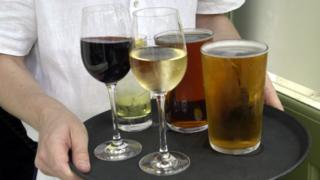 Alcohol has become "embedded" in Irish national identity, according to a major government-funded report into drinking habits in the Republic of Ireland.
Almost 6,000 people submitted personal "alcohol diaries" for the study.
At least once a month, over one third (37%) of all respondents consumed six or more drinks in a single drinking session - classified as binge drinking.
More than half of the drinkers who took part would be classified as "harmful drinkers" by international standards.
The state-wide alcohol survey, funded by the Irish Department of Health, was carried out by the Health Research Board.
It found 54% of respondents who drank would be considered as harmful drinkers using a World Health Organization measurement known as the AUDIT-C screening tool.
'Complex relationship'
Those who took part in the survey were aged between 18 and 75, and they submitted diaries detailing their personal alcohol consumption between July and October 2013.
The researchers stated that if the harmful drinking statistic was applied to the population as a whole, it would indicate there were between 1.3m and 1.4m harmful drinkers in the Republic of Ireland last year.
Binge drinking was most common among young men, with 68% of male drinkers aged between 18 and 24 confirming they did so on a monthly basis.
Almost two-thirds (63.9%) of men and half (51.4%) of women surveyed started drinking alcohol before they turned 18, the age at which it is legal to buy alcohol in the state.
However, just over one fifth (20.6%) of all those who took part in the research did not drink at all, having consumed no alcohol for at least a year before the survey began.
The Health Research Board's chief executive, Graham Love, said Ireland has "a complex relationship with alcohol".
"Its use has become embedded in our national identity and it is often associated with significant cultural and religious events."
Cost
Mr Love said alcohol abuse had created a "huge burden of health and social harm, not just on those who drink, but on their families, friends and colleagues".
"As a nation, it is clear that we need to recognise, accept and tackle the negative consequences that can arise from our use of alcohol," he added.
The chief executive said that according to latest estimates, the combined cost of deal with alcohol-related crime and health problems was 2.39bn (£1.9bn).