Nicolas Sarkozy: Investigations ex-French president faces
16 February 2016

From the section

Europe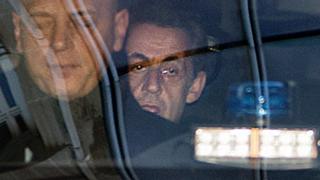 Former French President Nicolas Sarkozy has been placed under formal investigation over alleged illegal campaign funding.
With Mr Sarkozy hoping to return to the office next year it comes at a bad time - but it is far from the only scandal he has been caught up in.
---
What is the latest case?
The affair is known as the Bygmalion scandal. It centres on claims that Mr Sarkozy's party, then known as the UMP, connived with a friendly PR company to hide the true cost of his 2012 presidential election campaign.
France sets limits on campaign spending, and it is alleged the firm Bygmalion invoiced Mr Sarkozy's party rather than the campaign, allowing the UMP to exceed the limit.
Employees at Bygmalion have admitted knowledge of the ruse and several UMP members already face charges.
However Mr Sarkozy has repeatedly denied that he was aware of the overspending.
---
How bad is it for Mr Sarkozy?
He is under investigation for "suspected illegal financing of an election campaign for a candidate, who went beyond the legal limit for electoral spending," the Paris prosecutor said.
Serious as this may sound it does not guarantee he faces trial.
Mr Sarkozy's lawyer Thierry Herzog sought out the positives, saying that he was "satisfied" the former president is not being investigated over allegations of using false documents, fraud or breach of trust.
---
What else has he been caught up in?
Mr Sarkozy is already under investigation on suspicion of seeking to influence judges who were looking into his affairs.
Investigators have been trying to determine whether Mr Sarkozy promised a prestigious role to a high-ranking judge in exchange for information on another inquiry into alleged illegal campaign funding.
He was detained in 2014 in what was thought to be the first time a former French head of state has been held in police custody.
In 2013 he was cleared of taking secret funding from L'Oreal heiress Liliane Bettencourt to help him win the 2007 election.
There are also long-standing claims of campaign funding by the late Libyan leader Muammar Gaddafi - something Mr Sarkozy strongly denies.
---
What's he had to say?
Mr Sarkozy wrote about the Bygmalion scandal in a book published last month.
"It will no doubt be hard to believe, but I swear it is the strict truth: I knew nothing about this company until the scandal broke," he said.
Regarding claims of influence peddling, he has firmly denied doing anything "contrary to the values of the republic or the rule of law".
He has spoken of "political interference", suggesting that the judges who had ordered that he be questioned in custody had an "intention to humiliate".
---
Can he still be president?
When he made his political comeback two years ago Mr Sarkozy was favourite to regain the presidency, thanks in part to the unpopularity of the man who defeated him in 2012, Francois Hollande.
But French politics has shifted dramatically since then.
To become nominee for The Republicans, the party he renamed the UMP as, he will have to defeat centre-right rival Alain Juppe whom he trails in opinion polls.
There is also the threat from far-right populist Marine Le Pen in the elections themselves.
This investigation need not be fatal to his presidential hopes but at the very least it is an unwanted distraction in the countdown to May 2017.