Nicolas Sarkozy: Investigations ex-French president faces
3 July 2014

From the section

Europe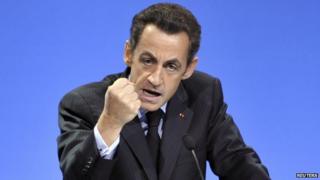 French investigators have placed former President Nicolas Sarkozy under formal investigation on suspicion of seeking to influence judges who were looking into his affairs.
The inquiry is seen as a blow to his attempts to regain the leadership of his party and challenge again for the presidency.
Mr Sarkozy, 59, was head of France's centre-right UMP party and president from 2007 to 2012. He says he has never done anything against "the rule of law" and sees "political interference" in the case.
---
Why was Mr Sarkozy detained?
Investigators suspect him of perverting the course of justice by seeking inside information about a case that dates back to the funding of his presidential election campaign in 2007. They believe judicial figures informed him that his mobile phone was being tapped. He was held in custody for 15 hours.
---
Who else is being investigated?
Mr Sarkozy's lawyer Thierry Herzog, 58, and a judge, Gilbert Azibert, from France's High Court of Appeal, the Court of Cassation, are part of the inquiry. Like the ex-president, his lawyer and Mr Azibert have been formally placed under investigation. Another judge, Patrick Sassoust, was taken into custody but later released.
Investigators are trying to find out whether Mr Azibert was asked to provide information in return for a prestige post in Monaco.
The homes and offices of both Mr Herzog and Mr Azibert have already been raided as part of the inquiry.
Mr Herzog has known the ex-president for more than 30 years while Mr Azibert, 67, is a high-ranking figure at the court.
---
What are investigators looking at?
The former president has faced a succession of allegations and many revolve around the financing of the campaign that brought him to power in 2007.
He was cleared in 2013 of taking large sums in cash from L'Oreal heiress Liliane Bettencourt, who was said to have been mentally frail. But longstanding claims of campaign funding by then Libyan leader Muammar Gaddafi have not gone away. A formal inquiry began last year.
Investigators want to know whether Mr Sarkozy, through his lawyer, tried to find out whether the High Court of Appeal was going to return his presidential work diaries, seized as part of the Bettencourt inquiry. Although the Bettencourt case was dropped, the court said the diaries should be retained.
Suggestions that he had used informants emerged from mobile phone taps which had been ordered as part of the Libyan funding claims.
Investigators are trying to find out not only whether Mr Azibert provided information about the inquiries but also whether he may have used his influence at the High Court of Appeal.
---
Hasn't Nicolas Sarkozy has also been linked to other inquiries, too?
For years, judges have been investigating alleged kickbacks on a 1990s arms deal with Pakistan while Mr Sarkozy was budget minister. Investigators are trying to find out if the deaths of 11 French engineers in a Karachi bomb attack were linked to the cancellation of bribes as part of the submarine contract.
In a separate case, five people, including Mr Sarkozy's former chief of staff, are under investigation over allegations that a 400m euro (£320m: $550m) arbitration settlement was rigged by his government in favour of businessman Bernard Tapie as a reward for his support during the 2007 presidential election campaign.
Will the investigations affect his chances of challenging for the presidency?
Mr Sarkozy is, according to the opinion polls, more popular than Socialist President Francois Hollande. He looked set to regain the leadership of his centre-right UMP party before challenging for the presidency in 2017.
The constant flow of allegations could hamper his return to politics. However, hours after his release from custody, Mr Sarkozy gave his first major TV interview since his fall from power, an appearance widely seen as an attempt to return to the fray.
The UMP party is currently rudderless, its leader Jean-Francois Cope having stepped down because of another Sarkozy funding row, known as Bygmalion. Judges are investigating claims that the party faked invoices worth 10m euros (£8m; $13.6m) during the 2012 presidential campaign to cover increasing costs.
---
What does Mr Sarkozy say about the allegations against him?
He has firmly denied doing anything "contrary to the values of the republic or the rule of law. He has spoken of "political interference", suggesting that the judges who had ordered that he be questioned in custody had an "intention to humiliate".
He also recently condemned the use of wire-tapping by investigators, likening their actions to the work of the secret police in communist-era East Germany.
"This is not a clip from the marvellous film The Lives of Others on East Germany and the activities of the Stasi. It doesn't involve the actions of some dictator... this is France."
---