Joan Burton becomes new leader of Irish Labour party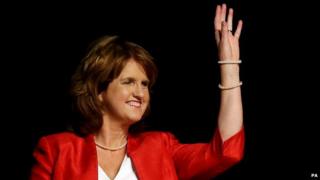 Joan Burton has been confirmed as the new leader of the Labour party in the Republic of Ireland, replacing Eamon Gilmore who stood down in May.
She has also taken over the role of deputy prime minister (tánaiste), which Mr Gilmore relinquished on Friday.
Labour is the junior partner in Ireland's coalition government and has shared power with Fine Gael since 2011.
The coalition fared badly in May's local government elections, following three years of austerity measures.
After her leadership victory, Ms Burton told supporters that in dealing with the economic crisis, Labour had governed too much with the head and not enough with the heart.
Following the party's poor election results, Labour has seen two high-profile resignations - that of Mr Gilmore and his colleague Ruairi Quinn, who resigned as education minister on Wednesday.
Ms Burton faced only one rival in the leadership contest, and she defeated Alex White by 2,094 votes to 607 in the party vote on Friday.
She is the 11th leader of the Labour party and is the first woman to hold the post.
The adopted mother-of-one grew up in Stoneybatter, Dublin, and is a chartered accountant by profession.
In the 1980s she became the secretary of the Irish anti-apartheid movement.
She was first elected to the Irish Parliament (Dáil) in 1992 and on her first day she was appointed as a minister of state.
When the current coalition government came to power in March 2011, she was appointed as minister for social protection and has led a programme of welfare reform.
Ms Burton has been a member of the Labour party for more than 30 years and was its deputy leader before entering the race to replace Mr Gilmore.
She, in turn, has been replaced as deputy leader by Alan Kelly, who is the minister of state at the Department of Transport.
Mr Kelly represents the North Tipperary constituency and received almost 52% of the vote in the deputy leadership contest.