Jackie Kennedy letters 'could be burned'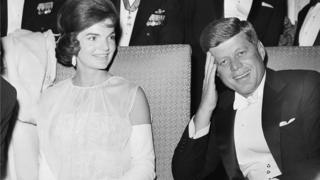 Letters written by the widow of former US President John F Kennedy to a Dublin priest could be destroyed, it has been reported.
The correspondence between Father Joseph Leonard, a priest at All Hallows College, and Jackie Kennedy was due to have been auctioned last month.
But the college later announced it was withdrawing them from sale.
The widow of Robert F Kennedy, Ethel Kennedy, has now said the letters could be burned.
She made her views known to Irish priest Fr Gerard Creedon, who is a close personal friend of the Kennedy family and based in Virginia.
Fr Creedon said Jackie Kennedy's letters to the priest were private and that he agreed with the decision of the provincial of the Vincentian order to halt the auction.
He told the Irish Times newspaper: "When I talked with Ethel Kennedy about them, she came up with a solution - the letters could be burned."
The Cork-born priest, who attended All Hallows in the 1960s, said their destruction could be done "to put an end to the story".
The extremely private Jacqueline Bouvier Kennedy wrote to Father Leonard, a Vincentian priest at the north Dublin college from 1950 until his death in 1964.
In her letters, she revealed her feelings of happiness in meeting and marrying JFK but also her worries that he might turn out like her father, "a bit of a philanderer".
She later revealed her distress at her husband's murder.
The letters also detailed her happiness in her Irish visits before she married into the Kennedy family.
For years, the letters remained undiscovered, as far as the public was concerned, in All Hallows College.
Then, the Vincentian Fathers announced they were going to auction the correspondence.
It is thought the letters could have fetched as much as $5m (£2.97m) at auction.
All Hallows College has since announced that it is going to close.