Irish priest forbids 'unsavoury' yoga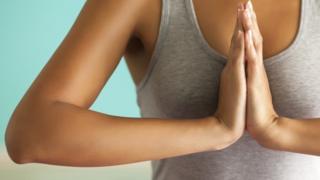 An Irish priest has warned his parishioners against taking part in yoga, describing it as "unsavoury".
Fr Padraig O'Baoill, a parish priest in Gweedore, County Donegal, issued the warning in a parish newsletter.
The weekend bulletin stated Catholic parishioners should not "endanger" their souls by practising yoga, tai chi or reiki.
Fr O'Baoill, who is currently visiting the Catholic pilgrimage site of Lourdes, declined to comment further.
'Conflict'
Gweedore parish is located in the Gaeltacht, an Irish-speaking part of County Donegal, and is run by the Diocese of Raphoe.
The newsletter, printed in the Irish language, was published at the weekend.
The document stated: "As followers of Jesus Christ, we shouldn't be taking part in any activities that are in conflict with our faith.
"Therefore don't take any part in yoga classes, tai chi or reiki. Do not endanger your souls for the sake of such unsavoury activities."
CJ McGinley, who reported the comments in the Donegal News, said people in Gweedore were "baffled and bemused" by the priest's remarks.
Yoga teacher Norah Graham, who has held yoga classes in the area for about 20 years, said she was both offended and "a bit surprised" by the comments.
'Over the top'
She said she had spoken to Fr O'Baoill about the issue before and he had put an "embargo" on the advertising of yoga classes, so she was aware that he did not approve.
However, the yoga teacher said the strength of Fr O'Baoill's latest comments had come as a surprise and said she felt his remarks were "over the top".
Ms Graham, who is also a retired secondary school teacher, said she was not a particularly religious person.
She said the handful of people who regularly attended her yoga lessons had "their own beliefs" and religion played no part in her classes.
Ms Graham added that the practice of yoga in Western countries was now "largely divorced" from religious associations.
'Healing'
Tai chi was originally developed as a martial art in 13th Century China, but its slow, low-impact movements are currently practised around the world as a health-promoting exercise.
Reiki is a Japanese spiritual healing technique, that aims to boost the body's natural healing abilities by a trained practitioner laying hands on or above the recipient's upper body.
The BBC has contacted the Diocese of Raphoe regarding the priest's remarks, but the calls have not been answered.