Political novice Miro Cerar wins Slovenia election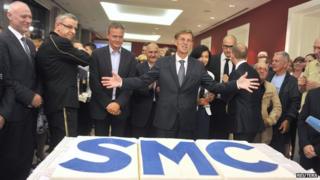 A centre-left political novice, Miro Cerar, has won a snap election in Slovenia and questioned EU privatisation targets for his country.
The EU launched a reform package for Slovenia last year when the tiny Alpine nation's banks got into trouble.
The Miro Cerar Party (SMC), launched in June, won 34.7% of the vote in Sunday's election. Now Mr Cerar, a lawyer, will try to form a new coalition government.
He opposes privatisation of Slovenia's main airport and a state telecoms firm.
Last year there were fears that Slovenia would become the next country in the eurozone to ask for a financial bailout.
As in Spain, bad loans in the banking system were at the heart of Slovenia's economic woes.
A former prime minister, Janez Jansa, began serving a two-year jail term for bribery last month. His centre-right Slovenian Democratic Party (SDS) got 21%, but disputed the election result.
Mr Jansa's successor, Alenka Bratusek, called a snap election amid political turmoil over the economic reform plans.
Mr Cerar, a 50-year old law professor, is the son of an Olympic gymnast regarded as one of Slovenia's greatest ever sportsmen.