Sligo deaths: Brothers die after stabbing at house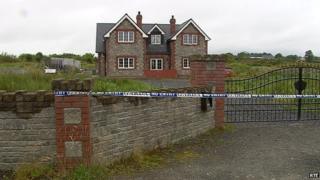 The deaths of two brothers, aged nine and 21, are being investigated in the Republic of Ireland.
The child, who had been stabbed, was discovered at a house at Tourlestrane, Tubbercurry in County Sligo, on Sunday evening.
The boy was taken to hospital but he was pronounced dead a short time later.
The body of his older brother was found in a shed outside the same house. It is believed he may have stabbed the boy before taking his own life.
Police have said the investigation is at a very early stage and the cause of the brothers' deaths will not be confirmed until post mortem examinations have been carried out.
However, detectives are not looking for anyone else in connection with the deaths at present.
A family liaison officer has been appointed to the case and the office of the state pathologist has also been notified.
The scene remains cordoned off.