Hollande allies rally over Trierweiler book in France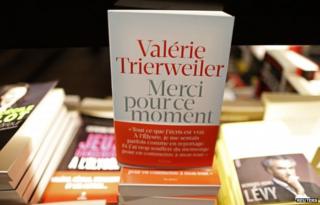 French President Francois Hollande's political allies have come to his defence after withering criticism from ex-First Lady Valerie Trierweiler.
In a book published on Thursday, she paints the Socialist president as a callous man who dislikes the poor.
Segolene Royal, the energy minister and mother of his children, said the accusations were absurd.
Prime Minister Manuel Valls said that by mixing public and private life, the tone of the debate had been lowered.
Condemning "these outrageous attacks", he called for "respect in the lives of everyone and dignity in public debate" and said the French were more worried about jobs and housing.
As France was digesting the contents of her book, Thank You For This Moment, a TNS Sofres opinion poll suggested President Hollande's popularity had dipped to 13%, his lowest rating so far.
And there was further bad news for the government when it emerged that the new Trade Minister, Thomas Thevenoud, had resigned because of a problem with his taxes.
Mr Valls reshuffled the government little more than a week ago after a cabinet revolt against the president's austerity policies.
'Licence to kill'
In the book, Ms Trierweiler refers to a tweet she sent backing an opponent of Ms Royal in local elections which led to widespread criticism from Mr Hollande's colleagues.
Listing the names of all the prominent Socialist figures who had turned on her, she complains that none of them would have done so without the personal approval of Mr Hollande.
"It's Hollande himself who issued the licence to kill."
Their relationship ended in January, after a magazine revealed that Mr Hollande had been having an affair with actress Julie Gayet.
"In a matter of hours in January 2014, my life was devastated and my future blown to bits," she complains.
But the passage in the book that has most angered Mr Hollande's political allies concerns claims that the Socialist president, who has in the past created an image of disliking the rich, in reality secretly despises the poor.
"He, the man of the left, talks about 'the toothless ones' in private, very proud of his humorous streak."
Ms Royal initially refused to talk about the book, but when pressed on RMC Radio she was adamant : "This is the opposite of what he stands for."
Some of the angriest words came from another minister, Thierry Mandon, who said the former first lady had done a great deal of harm to her profession of journalism by producing a type of "precious court gossip for the supermarket".
Far-right National Front leader Marine Le Pen weighed in, condemning the book as a "dishonour for France".
Mr Hollande himself, who was at the Nato summit in Wales, has not commented and is unlikely to.
However, Le Parisien newspaper reported that he had sent friends a text message on Tuesday saying he was stunned.