Irish police: New driver penalty point cancellation claims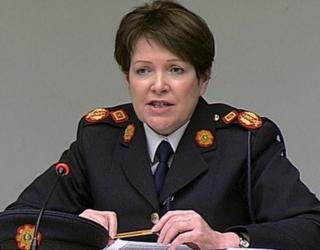 Irish police are continuing to cancel driver penalty points for friends, according to fresh allegations.
Sergeant Maurice McCabe, who exposed earlier cases of abuse of procedures by officers, said drivers had penalty points cancelled on numerous occasions.
The Republic of Ireland's interim police commissioner, Noirín O'Sullivan, said the claims had been referred to the police ombudsman commission.
Senior officers will meet Sgt McCabe later at police headquarters.
Inappropriate
The new claims had been made despite a strengthening of the fixed-charge penalty system in June.
The Garda (Irish police) Professional Standards Unit is currently preparing an audit of the system.
Two whistleblowers, Sgt Maurice McCabe and now retired John Wilson, claimed earlier this year that senior police officers had inappropriately wiped the penalty points from the driving licences of often well-connected offenders.
The issue became part of a broader controversy which saw the resignation of then justice minister Alan Shatter and Garda commissioner Martin Callinan.