Dublin waste recycling plant: Fresh appeal over human remains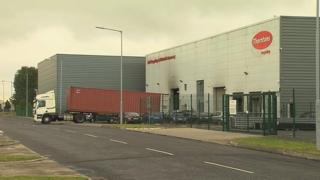 Police have made a fresh appeal about the discovery of partial human remains at a waste recycling plant in Dublin.
The remains of a man, aged 25-45, were found at Thornton's Recycling Plant, Killeen Road, Ballyfermot on 31 July.
The police want to identify the man and establish the location where his remains were disposed of into a skip.
He was between 5ft 8ins and 6ft and, in the past, had surgery to reduce brain swelling following severe traumatic brain injury.
The police said two of the lines of enquiry being pursued related to the presence of red franking ink ribbon and acetic acid on the remains.
The ink ribbon was that used in a SM 26 Franking Machine, according to the police.
The remnants of a spool of this ink ribbon were found, amongst other material, beside the remains.
A post-mortem examination established that the human remains were contaminated with acetic acid.
This is a chemical widely used domestically, such as in vinegar and food preservatives, and industrially in textile printing, dyes, photographic chemicals, pesticides, rubber and plastics.
Acetic acid is a toxic chemical with a pungent smell.
Police have appealed to people who have concerns for family or friends they have been unable to contact since July, in particular anyone that had surgery following a brain trauma.
They have also appealed to anyone who disposed of, or who had knowledge of who disposed of, franking ink ribbon in the last week of July.
They are also appealing to anyone who noticed an unusually strong vinegary smell adjacent to their home or place of work during July.
Anyone with information is asked to contact Ballyfermot Garda Station at 01-6667200 or the Garda confidential line on 1800-666-111.