Sarkozy bid divides Chirac couple over 2017 election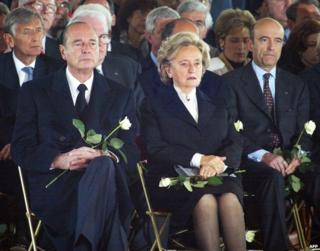 The prospect of Nicolas Sarkozy returning as candidate for the French presidency in 2017 has split opinion between former President Jacques Chirac and his wife Bernadette.
Mr Chirac, who makes no secret of his distaste for Mr Sarkozy, has endorsed a different man for the ticket, choosing former Prime Minister Alain Juppe.
But Mr Chirac's wife went on air to disparage Mr Juppe's appeal to voters.
Only last week, Mr Sarkozy launched his political comeback.
At a rally in the northern city of Lille, he opened his campaign for the leadership of his centre-right party, the UMP, seen as a step towards winning the party's eventual primaries for 2017.
Mr Sarkozy, 59, narrowly lost the 2012 presidential election to his Socialist rival, but Francois Hollande has since become the most unpopular French president in modern times.
Mr Juppe is not standing for the UMP leadership but has declared his ambition to stand for the party's presidential ticket, arguing that he has broader appeal than Mr Sarkozy.
Correspondents say Mr Juppe, 69, is one of the few UMP politicians capable of mounting a serious challenge to Mr Sarkozy after the party's well-publicised internal battles since 2012.
'Call of destiny'
Speaking to Le Figaro, Mr Chirac, 81, said: "I have always known that Alain Juppe would answer the call of his destiny and that of France. Few things would please me more, for me, for him and especially for our country.
"If I had the energy, I would already have booked my place, even a minor one, in the headquarters [of the Juppe campaign]."
It was already clear from Mr Chirac's memoirs before the 1012 election that he cared little for Mr Sarkozy, despite having him as a minister during his time at the Elysee (1995-2007).
"Irritable, rash, overconfident and allowing for no doubt, least of all regarding himself," was how he described his successor as president.
However, Bernadette Chirac told French radio station Europe 1 that Mr Juppe was "very, very cold and does not attract people".
The accusation was fended off by Mr Juppe, who said later it was a "stereotype from another time".
Mrs Chirac was also quoted by French satirical newspaper Le Canard Enchaine as saying that Nicolas Sarkozy was urging her to help him effect a reconciliation with Jacques.
"He even said he was ready to see him in secret, anywhere," she was quoted as saying.
Meanwhile, Mr Sarkozy's long-running legal battles have also made a comeback with the first charges pressed this week in the Bygmalion affair, which concerns invoices for events staged by PR company Bygmalion during Mr Sarkozy's 2012 re-election campaign.
Judges are investigating claims that the party faked invoices worth 10m euros (£8m; $13.6m) to cover increasing costs.
A YouGov/Huffington Post poll published on Thursday suggests that 56% of voters are opposed to Mr Sarkozy's return, with only 32% in favour.