Latvia election: Coalition keeps strong Russian party out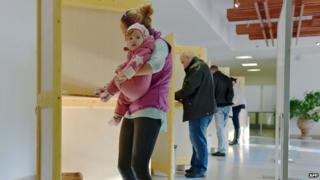 Latvia's ruling centre-right coalition parties have won a clear majority in the country's parliamentary election, despite a pro-Russian party coming top.
There is great concern in Latvia about Russia's intervention in Ukraine and its influence in the Baltic region.
The coalition parties won at least 61 seats in the 100-seat parliament. Harmony, a party allied with the Kremlin party United Russia, got 24.
Ethnic Russians - about a quarter of the population - mostly backed Harmony.
Party leader Nils Usakovs, who is also mayor of the capital Riga, said with the largest proportion of the vote he should be given the chance of forming a new coalition.
The former Soviet republic, like its Baltic neighbours Estonia and Lithuania, is a member of both the EU and Nato.
The Kremlin has long complained that politicians in the Baltic states are failing to uphold the rights of ethnic Russians.
President Vladimir Putin has pledged to defend the rights of Russians in the former Soviet Union - and he gave that as justification for Russia's annexation of Crimea.
On Saturday, Latvia's Prime Minister Laimdota Straujuma said "this election is different because of what is going on in Ukraine".
"The situation is escalating there again and people are worried what will happen because we have a border with Russia."
The EU and other Western powers have imposed sweeping sanctions on Russia because of the Kremlin's support for pro-Russian separatists in eastern Ukraine.
For months the Kremlin has denied Western reports about Russian troops and heavy armour entering Ukraine to help the anti-government rebels there.
The Latvian coalition formed by the Unity party, the Nationalist Alliance and the Union of Greens and Farmers has pushed for deeper integration with the EU and a stronger Nato presence in the Baltic.