Obituary: Yuri Lyubimov - Russian theatre star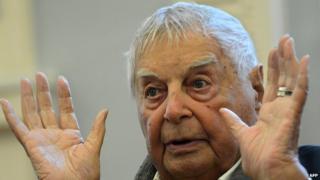 Russia is mourning the loss of Yuri Lyubimov, a giant of the theatre for half a century who won many awards.
He died on Sunday aged 97.
Lyubimov founded Moscow's Taganka Theatre and earned worldwide acclaim for his innovative productions.
In 1984 he staged Dostoyevsky's Crime and Punishment in London, wowing critics. But the Soviet authorities had already banned some of his productions and in that year they stripped him of his citizenship.
Tatyana Bachelis, a writer on Russian theatre, says Lyubimov impressed less with the scope of his output than with his attention to detail.
"Lyubimov's art - in his best creations - expresses human pain. And shame. And thought. He also expressed something quite new for audiences.
"Perhaps Russia's tragic history helped Lyubimov to understand what is most important: human dignity at a time of apocalyptic events," she said.
Great innovators
He was born in Yaroslavl in 1917, shortly before the Bolsheviks seized power, and in the following years Russia was convulsed by civil war and political repression.
His mother was a teacher and his father ran a shop.
In his youth he was inspired by Constantin Stanislavski and Vsevolod Meyerhold - directors who developed "method" acting, demanding that actors make full use of movement and gestures to reveal a character's emotions.
In the 1930s Meyerhold fell victim to Stalin's ideological purges. He was tortured, then executed - and many other cultural figures were similarly persecuted.
During World War Two Lyubimov performed in a song and dance troupe run by the NKVD - Stalin's notorious communist secret police.
In a BBC Russian interview Lyubimov said he absorbed the Stanislavski acting system through Mikhail Kedrov, a leading student of the theatrical pioneer.
"I went to Kedrov for two years in order to understand the latest experiences of Constantin Sergeyich (Stanislavski). So probably I know the Stanislavski system better than all those who make money out of it, who give master classes," he said.
Brecht success
His early career was spent with the Vakhtangov Theatre in Moscow, but his big breakthrough came with his 1963 staging of The Good Person of Szechwan, by the German dramatist Bertolt Brecht. The play, set in China, explores the moral dilemma of a prostitute who struggles for a life free of abuse in a cruel world.
The Brecht play was a huge success - those who saw Lyubimov's production spoke of a "revolution" in Soviet theatre.
It launched him as director of the Taganka Theatre, where he later staged another Brecht play - The Life of Galileo. The dozens of plays he directed there included Shakespeare's Hamlet, Mikhail Bulgakov's The Master and Margarita, and Ten Days that Shook the World - John Reed's vivid depiction of the 1917 Bolshevik Revolution.
The death of the actor and songwriter Vladimir Vysotsky in 1980 was a big blow for Lyubimov, as he had been a star performer at the Taganka Theatre.
The Soviet authorities banned a Lyubimov play honouring Vysotsky, whose popular songs often contained satirical social commentary, far removed from Communist Party orthodoxy.
Boris Godunov - a highly political drama by classic writer Alexander Pushkin - was another production that fell foul of the Soviet censors.
Soviet punishment
In 1984 Lyubimov criticised Soviet cultural policies in some Western media interviews and he was promptly sacked from the theatre. Later that year he lost his Soviet citizenship and his name was removed from all the theatre's publications.
The lifting of censorship during Mikhail Gorbachev's "perestroika" campaign in the late 1980s gave Lyubimov the chance to return home, and he was given a hero's welcome.
He staged the plays that had been banned and appeared to recover his earlier success.
But in the 1990s a serious row erupted among the theatre's performers and finally in 2011 Lyubimov abandoned the Taganka.
"I've had enough of this disgrace, these humiliations, this lack of desire to work, this desire just for money," he complained.
His final creative years were spent back at the Vakhtangov Theatre.