Radovan Karadzic war crimes trial: 'I expect acquittal'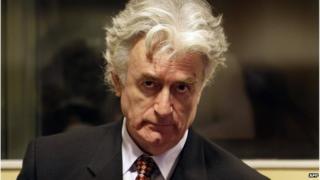 Former Bosnian Serb leader Radovan Karadzic has told a UN tribunal in The Hague that he expects to be acquitted of all charges against him.
Mr Karadzic is accused of war crimes and orchestrating acts of genocide during the Bosnian war, including the 1995 Srebrenica massacre.
But he insisted he had a "clear conscience" over what he described as "a horrible war".
More than 100,000 people died in the Bosnian war of the 1990s.
Mr Karadzic has been giving his closing defence arguments at his trial for war crimes committed in the former Yugoslavia.
In front of a three-judge panel, he said: "I have a clear conscience, the war did not happen as I wanted it, it was a horrible war, let's hope to God that it is the last in this area.
"I expect and I trust that the chamber will study carefully every document and every exhibit both from the defence and from the prosecution, and if that happens I have no doubt that a judgment of acquittal will follow."
Mr Karadzic set out his case in a written brief before telling the UN tribunal there was not a shred of evidence against him.
On 1 October, he began the first half of his defence, saying he accepted "moral responsibility" for crimes by Bosnian Serbs but denied ordering killings.
He faces 11 counts of genocide, war crimes, crimes against humanity and other atrocities committed during the war.
One of two counts of genocide relates to the massacre of more than 7,500 Muslim men and boys in the Srebrenica enclave in July 1995, which the UN says was part of a campaign to "terrorise and demoralise the Bosnian Muslim and Bosnian Croat population".
The five-year trial wrapped up on Tuesday as the judges retired to begin considering their verdicts, which are expected to be delivered next year.
Prosecutors have called for Mr Karadzic to be given a life sentence if convicted.
The 69-year-old political leader of the Bosnian Serbs in the 1990s was handed over to the tribunal when he was arrested in 2008 after 13 years on the run.