Vatican synod on homosexuality: What do Catholics think?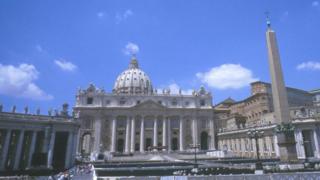 Senior clerics taking part in a review of Roman Catholic teachings on the family have called on the Church to adopt a more positive stance on homosexuality.
A preliminary report written by bishops during a Vatican synod said homosexuals had "gifts and qualities to offer".
The report does not challenge the Church's long-held opposition to same-sex marriage, but some gay rights groups hailed it as a breakthrough.
Here are the views of some Catholics.
Wilfred Bankole Ademokun, Ibadan, Nigeria
If this proposal is approved, it will affect the Catholic Church in Nigeria, as homosexuality goes against our culture, norms and values.
The Catholic Church will be totally destroyed in Africa.
We will revolt against these decisions. However, I think the Vatican council will reject them.
I am not against homosexuality, everyone has right to their own beliefs, but it's illegal in Nigeria.
The Pope must think very carefully about this or he will demolish the Catholic Church in Africa.
---
Laura Ann McCarthy, Glasgow
As a Catholic, I think this news is wonderful, absolutely wonderful.
The Church must recognise that society has changed and that for many people, views and opinions have altered.
This is ground-breaking, and I hope there is more positive news like it to come from the synod.
If the Church is to survive for another 2,000 years then we must progress in this positive and inclusive manner.
---
Blanca Rodriguez, San Juan, Puerto Rico
I always wanted to be part of a Catholic Church group but was not able to because of the Church's beliefs about gay people.
I have a life partner, and we had to get married in the Protestant Church.
So, we don't go to a Catholic church, but now there is the possibility that we will go back.
We don't think the Church has the right to make the decision for us or to decide who I spend my life with, and they don't know who is going to make me happy.
Nobody should have control over other's people's lives and happiness and the things that will only affect that person. They are only God's servants like we are.
---
Cosmas Muli, Nairobi, Kenya
That's too unfortunate to come from a Catholic authority.
I will quit the Catholic Church after 30 years if anything of a homosexual or lesbian nature is allowed. It's not from God and not Catholic.
---
Anne Maple, London
I am Catholic, and I come from a family where quite a number of people have been born "intersexed", having the congenital abnormality of both male and female reproductive organs and other birth defects.
For many generations, these people could not have children. Today, they can be successfully operated on to make them "normal".
My mother was bitter all her life for having had her male organs removed.
She was more male than female in her ways.
I think so long as no-one gets hurt, then there is nothing wrong with same-sex couples.
---
Eteng Theophilus Okoi, Abidjan, Ivory Coast
Homosexual relationships have no place in Biblical teachings so for the Church to now divert from the old stance on homosexuality is appalling.
If God had wanted humans to be gay, he wouldn't have created both sexes.
The moment the synod approves and ratifies the report, I will denounce my membership of the Church and become an atheist.
---
"Emma", who wishes to remain anonymous, Plymouth
As a gay Catholic, it is amazing to see the Church is finally recognising that we are still God's children and are not something to be feared.
It gives comfort that the place I can meet God may become easier to access, that I won't have to hide and lie about who I really am.
I have been told I am the devil's bride, that I am disgusting, that God hates me above all others and that I am guaranteed a place in hell.
There are sermons stating the above, and we are told to cast out those not worthy.
When people have found out I'm gay, I have been asked to attend special meetings, had prayers of repentance prayed over me and even had healing offered to me. On refusal, I was removed from all roles within the church.
This is why it is difficult and fearful, and I don't believe this will change. You can't change people's mind-sets, especially if they believe they're doing right by God.
Interviews by Shereen Sherief