Newtowncunningham Orangemen to meet in GAA hall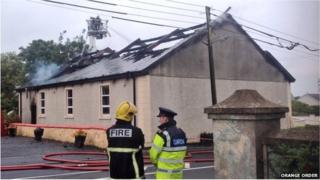 Orangemen in County Donegal could be meeting in a GAA hall after a local club offered them the use of their premises.
The Orange hall in Newtowncunningham was destroyed in an arson attack in September.
It had been used as a community facility before it was targeted by arsonists.
Newtowncunningham GAA club wrote to the local Orange lodge afterwards to offer them the use of their facilities.
Orange Order members in the village said they were delighted by the offer and have pledged to invite the GAA club to the opening of their new hall when it is rebuilt.
Lodge treasurer Stewart McClean told the BBC's Talkback programme: "We received a letter from them offering use of their premises while our own hall's being rebuilt, something we took great support out of.
"We have been inundated with messages of support from the local community, from the parish hall from the local Gaelic club - even some of the local businesses are organising a dance for us to raise funds to help us rebuild again."
'No issues'
Former Donegal senior footballer Brendan Devenney said he did not think anyone would object to the offer.
"There would be no issue at all with that from anybody in Newtowncunningham," he said.
"Growing up as a kid in Newtown, I remember being down in the Orange hall all the time, there used to be fundraisers and bazaars.
"That [GAA] pavillion down there, it's not really seen as some kind of hardcore nationalist GAA place, it's seen as a place for people in the community."
Another Orange hall in Convoy, County Donegal, was destroyed in an arson attack earlier this month.
The GAA has also offered to help Orangemen there.
Rev Colin McKibbin from Convoy Presbyterian Church said Convoy was a Christian community based on faith.
"We see that when one part of that community needs help, the other part of the community is there willing to help," he said.
"If it happened to the Catholic community we would be there to help them as well - that's the outworking of our faith."