Calais migrants: France 'to send extra police to port'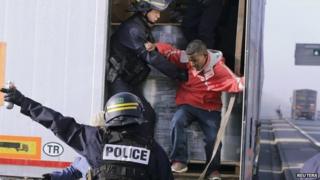 France is to send 100 extra police officers to Calais in a bid to end the ongoing migrant unrest around the port, the French interior minister has said.
Bernard Cazeneuve told a French newspaper that the reinforcements would join 350 officers already in the town.
Calais has been struggling in recent months with increasing numbers of migrants arriving.
French police used tear gas this week as hundreds of migrants tried to climb onto trucks bound for the UK.
Clashes erupted on Monday between the Eritrean and Ethiopian camps and continued into Tuesday.
There was further violence on Wednesday, as security forces tried to block the migrants from attempting to cross the English Channel.
Dozens of people have been injured in the unrest.
Escalating problem
Mr Cazeneuve told La Voix du Nord that 70 of the police would guard the port and the remainder will protect the town.
"The aim is for trucks to be able to move more freely, to avoid them being mobbed, and to strengthen controls while also ensuring the security of migrants who are themselves in danger," Mr Cazeneuve said.
He said the officers would begin work in the town "quickly" but gave no further details on the timescale.
Police say tensions have increased following the death of a 16-year-old Ethiopian girl who was hit by a car late on Monday night as she crossed a nearby motorway.
The refugees in Calais are mainly from Eritrea, Ethiopia and Sudan though some are from conflict areas like Syria.
Illegal camps have existed in the port since France closed the Sangatte immigration centre in 2002, though the problem is escalating.
Over 2,000 migrants are now estimated to be living in Calais, compared to 1,500 just weeks ago.
The UK has agreed to contribute £12m (15m euros; $19m) to help manage the situation.
Some 7,500 migrants have been arrested in Calais this year.