Irish beef farmers stage 48-hour protest over UK price gap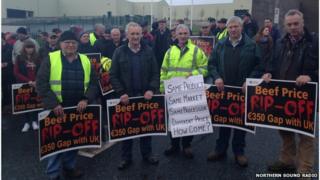 Beef farmers in the Republic of Ireland have been staging a 48-hour protest outside meat processing plants.
Farmers say meat factories are not passing on market price increases, and point to a large disparity between UK and Irish prices.
Meat Industry Ireland (MII) who represent processors, said comparisons with UK prices are inappropriate as quality standards vary. They accuse farmers of blockading their factories.
The protest is due to end on Tuesday.
The action comes at a busy time for the industry, as it prepares for Christmas.
Two weeks ago, farmers staged a 24-hour protest that is estimated to have cost 10m euros (£785,000) in lost output.
The current protest is targeting 14 of the 29 processing plants in Ireland. They are factories owned by ABP, Dawn Meats, and Kepack, who control 70% of the market.
President of the Irish Farmers' Association (IFA) Eddie Downey said: "IFA's executive council and National Livestock Committee sanctioned further action unless the massive 350 euros (£275) gap between the UK beef prices and ourselves was addressed.
"Even with incontrovertible market evidence that shows how the UK price has moved on by 30c/kg (£0.24/kg) in recent months, they have continued to deny farmers a return that reflects improved market conditions".
The protest was triggered after nine hours of discussions between MII and IFA ended without agreement on Friday. Price and meat standards are at the heart of the dispute.
MII said that quality standards make price comparisons with the UK inappropriate, but this is disputed by the IFA.
Ciarán Fitzgerald, chairman of MII, said the protest will affect 10,000 jobs on Monday and Tuesday.