Merkel says no new EU Russia sanctions planned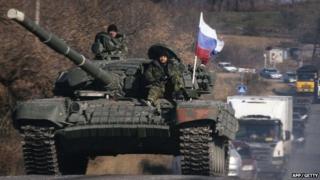 German Chancellor Angela Merkel has said further economic sanctions against Russia are not planned over its actions in eastern Ukraine.
EU foreign ministers are to discuss sanctions next week and monitors say a ceasefire between pro-Russian rebels and Ukrainian forces risks unravelling.
But Mrs Merkel said that while the ceasefire was not being respected the focus was on securing a real truce.
EU sanctions were first imposed when Russia annexed Crimea in March.
Further measures have since been added since, targeting senior Russian officials, as well as Russia's oil industry, defence firms and banks.
Western governments and the Ukrainian authorities in Kiev have accused Russia of supplying the separatist rebels in eastern Ukraine with heavy weapons and soldiers, a claim denied by the government in Moscow.
Russia's envoy to Brussels, Vladimir Chizov, said on Tuesday that EU was "close to exhausting its sanctions potential, both in terms of political will and of its own economic opportunities".
He told Tass news agency that the 28-member bloc needed a consensus to either cancel the sanctions or introduce new ones, and he could not see a consensus to cancel them.
The German chancellor, while maintaining her backing for EU travel bans on pro-Russian separatists, indicated that further measures were off the table in favour of "focusing on the winter and the humanitarian situation [in Ukraine] and how to get a real ceasefire".
A truce deal, signed in Minsk on 5 September, has been violated by both sides and a rebel spokesman in the city of Luhansk told the BBC on Tuesday that there had been fighting in several areas about 20km (12 miles) to the north, west and south of the city.
The Organisation for Security and Cooperation in Europe warned of a real "risk of further escalation".
The OSCE monitoring team said it had seen a convoy of 43 unmarked, green, military lorries heading towards the centre of the rebel-held stronghold Donetsk. Five of the lorries were towing 120mm artillery pieces while another five were towing multi-launch rocket systems.
More than 4,000 people have been killed in fighting in eastern Ukraine since April, including hundreds of fatalities since the ceasefire began.
Ukraine launched an "anti-terror operation" after separatists took over public buildings in the eastern regions of Donetsk and Luhansk.