Billy Brennan's barn: Famous barn in Patrick Kavanagh poem for sale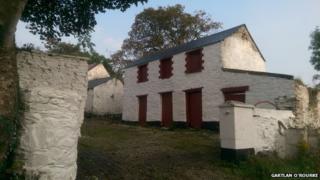 A barn made famous in an Irish poem has gone up for sale in Inniskeen, County Monaghan.
Patrick Kavanagh referred to Billy Brennan's barn in his 1936 poem Inniskeen Road: July Evening. The barn was used for unofficial dances in the 1930s and 1940s.
It was bought by a farmer in the town about ten years ago.
He is now selling the barn along with three acres of land, but is keeping the farmhouse next to it.
The poem is well-known among generations of Leaving Certificate students in the Republic of Ireland, as it has featured in the Irish curriculum since the early 1970s.
'Kavanagh trail'
The Patrick Kavanagh Centre has said it is seeking funding from a number of "different sources" in an attempt to place a bid on the iconic barn.
Art Agnew, who helps run the centre, told the BBC that the property was of "huge significance".
He said: "There's not a young person that did up to O-level and A-level that doesn't know it.
"Even if you were away and you told people you were from Monaghan, they would quote the famous lines from the poem."
Inniskeen Road: July Evening by Patrick Kavanagh
The bicycles go by in twos and threes - there's a dance in Billy Brennan's barn tonight.
And there's the half-talk code of mysteries and the wink-and-elbow language of delight.
Mr Agnew said the centre is run on a voluntary basis with no funding, but he hopes they will be able to find enough money to buy the barn, as it is part of the centre's Kavanagh trail.
He said: "It's one of the places that people like to see on the trail and it allows their imagination to fly.
"There's nobody yet who doesn't stir when they remember dances from when they were young.
"It would be too important for us not to keep access to it, or for it to fall into the wrong hands."
'Asking price'
Auctioneer Daragh O'Rourke, who is selling the property, said there had been "good interest" in the barn already.
"We have two very definite groups who are interested in renovating it, people who would look after it and people who would have literary connections with Patrick Kavanagh," he said.
"Everybody knows that poem, whether they like it or not.
"The barn is not anything spectacular in itself, but it's what it represents. It's the only barn with a poem about it after all."
There is no official asking price for the property, but Mr O'Rourke said he believed it would sell for between 50,000 (£39,655) to 100,000 euros (£79,326).
He also said he would look "very favourably" at the prospect of the Patrick Kavanagh Centre purchasing the barn, if it was in a position to do so.
Monaghan County Council said on Friday that the barn is listed in its development plan as a "protected structure of local importance".
"In short, this means that it is legally protected from harm and that all future changes to the structure are controlled and managed through the development control process (applying for planning permission) or by issuing a declaration under Section 57 of the Planning and Development Act," a council spokesman added.