Irish ministers welcome Obama's immigration plans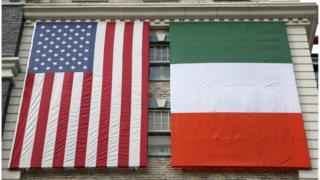 Senior Irish government ministers have welcomed President Barack Obama's proposed changes to US immigration laws.
The plans could allow up to five million undocumented people living illegally in the US to apply for work permits, including many Irish.
There are thought to be 50,000 undocumented Irish living in the US.
The Republican party opposes the change and has accused the president of an "illegal power-grab".
There are estimated to be 11 million illegal immigrants in the US, mostly from Mexico and the rest of central America.
Three years
The majority of those who will be affected by President Obama's plan are the undocumented parents of children with US citizenship or legal residency.
There are thought to be around four million such cases. They will be able to apply for work permits lasting three years.
Undocumented Irish are more likely to be affected by changes for so-called Dreamers, people born before 1981 who arrived in the US before 2010.
They will be allowed to stay, subject to a renewable three-year term, and will be free to come and go from the US during that time.
Entrepreneurs who can show they will be creating US jobs, and bringing investment to the US, will be allowed to apply for a newly created visa.
Irish ministers
Minister for foreign affairs and trade, Charlie Flanagan said: "Today represents real progress, albeit with further important steps yet to be achieved."
He welcomed what he called "an outcome that should make a difference to thousands of our undocumented citizens there".
Jimmy Deenihan, Ireland's Minister for the Diaspora, said: "Irish immigration centres across the United States, who receive funding from the Irish government's emigrant support programme, will play a key role in providing advice and assistance on this.
"Our embassy and consulates will be working very closely with the centres over the weeks ahead."
Path to citizenship
President Obama will make release further details of the scheme later.
Irish Prime Minister Enda Kenny said: "I look forward to the president's announcements very much indeed, he signalled this last March when I met him in the White House".
"We've made the point, and all Irish people have made this point very strongly, that we want to see a situation where there's a pathway to citizenship for immigrants in the United States, including the 50,000 from here in Ireland," he said.
Although the plan will allow millions to work, it will not offer a path to citizenship or entitle them to the same benefits as Americans, President Obama said.
Campaigners for migrants' rights broadly welcomed Mr Obama's plans.
But some activists worried that the promise of a three-year work visa would not be enough for many people to come out into the open, given that a future president could reverse the policy.
---
US illegal immigrants' country of origin (2012)
Mexico - 59%
El Salvador - 6%
Guatemala - 5%
Honduras - 3%
Philippines - 3%
Source: Department of Homeland Security
---