Noirín O'Sullivan is appointed Garda Commissioner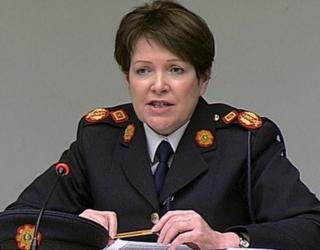 Noirín O'Sullivan has been appointed as the police commissioner in the Republic of Ireland.
The Department of Justice said Ms O'Sullivan was the sole candidate recommended for appointment following an open selection process.
It said the process included a global search and two rounds of interviews that involved both Irish and International candidates.
Ms O'Sullivan has served as interim police commissioner since March.
Irish Justice Minister Frances Fitzgerald said the decision to hold an open selection process had been a "key element" of the government's justice reform programme.
"I believe that Noirín O'Sullivan, with her experience and proven leadership capacity, is exceptionally well placed to deliver on this programme of reform and modernisation," she added.