Portugal plagued by corruption claims as ex-PM Socrates held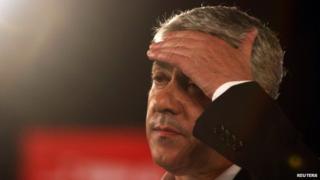 The detention of Portugal's former Prime Minister, Jose Socrates, on suspicion of tax fraud, money laundering and corruption has stunned the nation and upset calculations for the next year's general election.
"The likely effect is greater volatility and a more fragmented parliament," says Carlos Jalali, a professor of political science at the University of Aveiro.
"There were already signs of voters moving away from the two main parties... but the impact is greater for the Socialists."
Party activists were shocked to see their former leader detained at Lisbon airport for questioning on 21 November - and three days later remanded in custody pending further investigation.
The only Socialist leader ever to secure an absolute majority in parliament, Mr Socrates is admired by many but intensely disliked by others for his abrasive manner and the fact that it was on his watch that Portugal was forced to seek a eurozone bailout.
That was in early 2011; the party lost the election a few months later.
'Orchestrated'
As the party prepares this weekend for its annual congress, Mr Socrates situation and its electoral impact are already overshadowing proceedings.
Party leader Antonio Costa - himself a former number two to Mr Socrates - won praise for his measured reaction to the detention. He said that while Socialists might have personal feelings on the matter and that no-one would be wiped from history in Stalinist fashion, the justice system must be respected.
Others were less restrained.
In a post online, Socialist MEP Edite Estrela said the detention was "to divert attention from the golden visa scandal" - a reference to an investigation into suspected abuses in a government programme that fast-tracks residence permits for foreign investors. The case had a few days earlier prompted Interior Minister Miguel Macedo's resignation.
This week Mario Soares, a former President of Portugal and founder of the Socialist Party, raised the stakes after visiting Mr Socrates in prison. The 89-year-old told journalists that "the whole party" opposed this "political case" orchestrated by "rascals".
Delicate situation
Until Mr Socrates' detention, the Socialists had a 10-point poll lead over the centre-right Social Democratic Party of the Prime Minister, Pedro Passos Coelho.
Now Mr Costa, leader of the Socialists, faces an extremely delicate situation.
He was chosen as candidate for prime minister in an open primary in September, with 68% of the vote.
His emphatic defeat of Antonio Jose Seguro - who as leader sought to distance the party from the last Socialist government - was seen as a chance for Mr Socrates' supporters to regain the limelight.
Eduardo Ferro Rodrigues, a former minister, was made parliamentary leader, and was soon publicly defending Mr Socrates' record.
But by the time Mr Costa formally became party leader last weekend, Mr Socrates was in a police cell and the idea of burnishing his legacy looked less of a good idea.
---
Portugal's ex-PM Jose Socrates
Worked as an engineer, before joining the Socialists in 1981
Joined Antonio Guterres' minority government in 1995 as environment minister
Became leader of the Socialists in 2004 and swept to electoral success the following year
Has batted off several other scandals in recent years, including a long-running investigation into the construction of a shopping centre near the Tagus river estuary
His government eventually fell in March 2011 when the centre-right opposition refused to back further austerity measures
As caretaker prime minister, he announced in May 2011 that Portugal was seeking a €78bn (£68bn; $110bn) EU bail-lout
A month later, he lost a snap election and left politics, moving to Paris to study political sciences and eventually taking on a job as a consultant with Swiss multinational Octopharma
---
As for the government, it has mostly kept quiet.
But on Wednesday Mr Passos Coelho gave a television interview in which, without referring directly to his old rival, he expressed confidence in police and prosecutors.
It was a "reason for satisfaction", he said, that they did their work blind to "the position of each [suspect], even in the state hierarchy".
He then proposed another attempt to criminalise "illicit enrichment" - obliging corruption suspects whose lifestyle is a cut above their declared income to show where the money comes from to fund it.
In 2012 a law approved by parliament to shift the burden of proof in this way was struck down by the Constitutional Court.
New legislation, if approved, could make it much harder for the defence in cases such as Mr Socrates.
One rotten apple?
On Thursday, after five days' silence, the former prime minister issued a statement denouncing his detention as "an abuse", the surrounding media "show" as "an infamy", and calling the allegations against him "absurd, unjust and without foundation".
The decision to hold him further was "a gratuitous humiliation," he said.
Some feel that whether any one politician is a rotten apple is not Portugal's biggest problem.
"The more worrying case for the future of [state] institutions is that of the 'golden visas'," Bagao Felix, a former minister for the People's Party, junior partner in the governing coalition, said in his weekly television comment slot on Thursday.
"This idea that, for the first time, a case goes to the heart of the state administration concerns me more," he said.
Voters, though, may not make that distinction.
"The cumulative effect of these scandals is bad for all the established parties," said Carlos Jalali.
"You may see more spoilt ballots, as well as new parties winning seats."