Ian Bailey case: Marie Farrell says police asked her to change description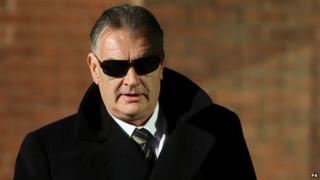 A witness has told Dublin High Court a police officer asked her to change her description of a man she saw in Schull, County Cork, in the days before the murder of Sophie Toscan Du Plantier.
Marie Farrell said this was as it did not fit the description of Ian Bailey.
Mr Bailey, a former journalist from Manchester who moved to Ireland 23 years ago, denies any involvement in the killing and was never charged.
He is suing the state for wrongful arrest during the investigation.
Ms Toscan Du Plantier, a 39-year-old film producer, was found beaten to death on a hillside near her remote holiday home in west Cork on 23 December 1996.
Ms Farrell said she was told by Det Garda Jim Fitzgerald that they needed to "do something to tidy up" the file for the DPP because the description did not fit.
She originally told police the man she saw was 5ft 8ins tall and of slim build.
A later statement described the man as Mr Bailey and said he was taller than a particular police officer who was 6ft tall and that she may have been mistaken about his height originally because she was standing on a higher level than him across the street.
She also said that statements she made about numerous incidents of intimidation by Mr Bailey, including phone calls and cut-throat gestures, were not true.
She said she was told by Det Fitzgerald that they needed the statements to build up a good file and to put pressure on the Director of Public Prosecutions to charge Mr Bailey.
Asked how she felt about giving these statements she said: "I never felt happy about it, but always felt obliged because Jim Fitzgerald was doing favours for us."